"We're More Than Just a Library"
By Will Johnson
Messenger Reporter
GRAPELAND – A birthday celebration of sorts was held earlier this week as the Grapeland Public Library turned 15-years-old.
GPL Board of Directors President Harry Pridgen welcomed guests, volunteers and other area residents to the library as they reminisced about the facility's first 15 years in existence.
"Fifteen years ago," Pridgen began, "Frances Pridgen and her son had a vision for the city of Grapeland. They felt the city of Grapeland needed to have a public library and they saw fit to get it done. They had a lot of help along the way," he said.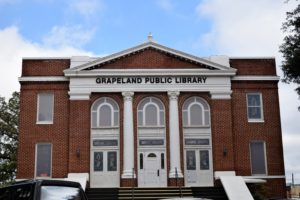 Pridgen recalled several of the original GPL board members and thanked them for their assistance in achieving the goal of opening the library.
"A lot of people have helped to make this possible but nobody helps as much as the current and previous volunteers. Without you, we wouldn't be here. I really do appreciate everything you have done," Pridgen said.
GPL librarians Alice Ormiston, Dianna Coldiron and Ashley Corns were also recognized.
"Thank all of you from the bottom of my heart," he said.
After the formalities, Pridgen spoke to The Messenger about the library and its anniversary.
"We're more than a library. Our librarian orders stuff online for people who don't know how or don't have access to a computer. She takes books to people's residences who are not in good health and then goes and picks them up," Pridgen explained.
He added that Corns had helped people with their taxes but stressed she doesn't do their taxes, but merely showed people what and where to fill out the forms.
When the Palestine Public Library's roof collapsed in 2009, we got a lot of south Anderson County residents who came here "… and they still keep coming back."
Librarian Ashley Corns – who has been in her position for the last four years – added the library has several ongoing programs for all ages to participate.
"We have Wiggles and Giggles which is for our pre-school age kids. They come in, we read to them and we also do arts and crafts. Just last week, we did what was called 'Grapeland Rocks' where kids came over to the library after school and painted rocks and hid them all around town. We track them on Facebook," she said.
Corns said the library also hosts a genealogy class on Tuesdays, beginning at 2 p.m.
"They meet every other Tuesday," she explained. "You don't have to be an expert in it. It's from beginner all the way up to expert. We also have guitar lessons here on Wednesdays at 6 p.m."
As far as the next 15 years, Corns said she would like to see the library expand and continue to grow the patron base.
The library is currently open Monday through Friday from 10 a.m. until 2 p.m., but Corns expressed the hours of operation may increase in the near future.
Will Johnson may be contacted via e-mail at wjohnson@messenger-news.com.