Fajardo Celebrates 15 Years With CPD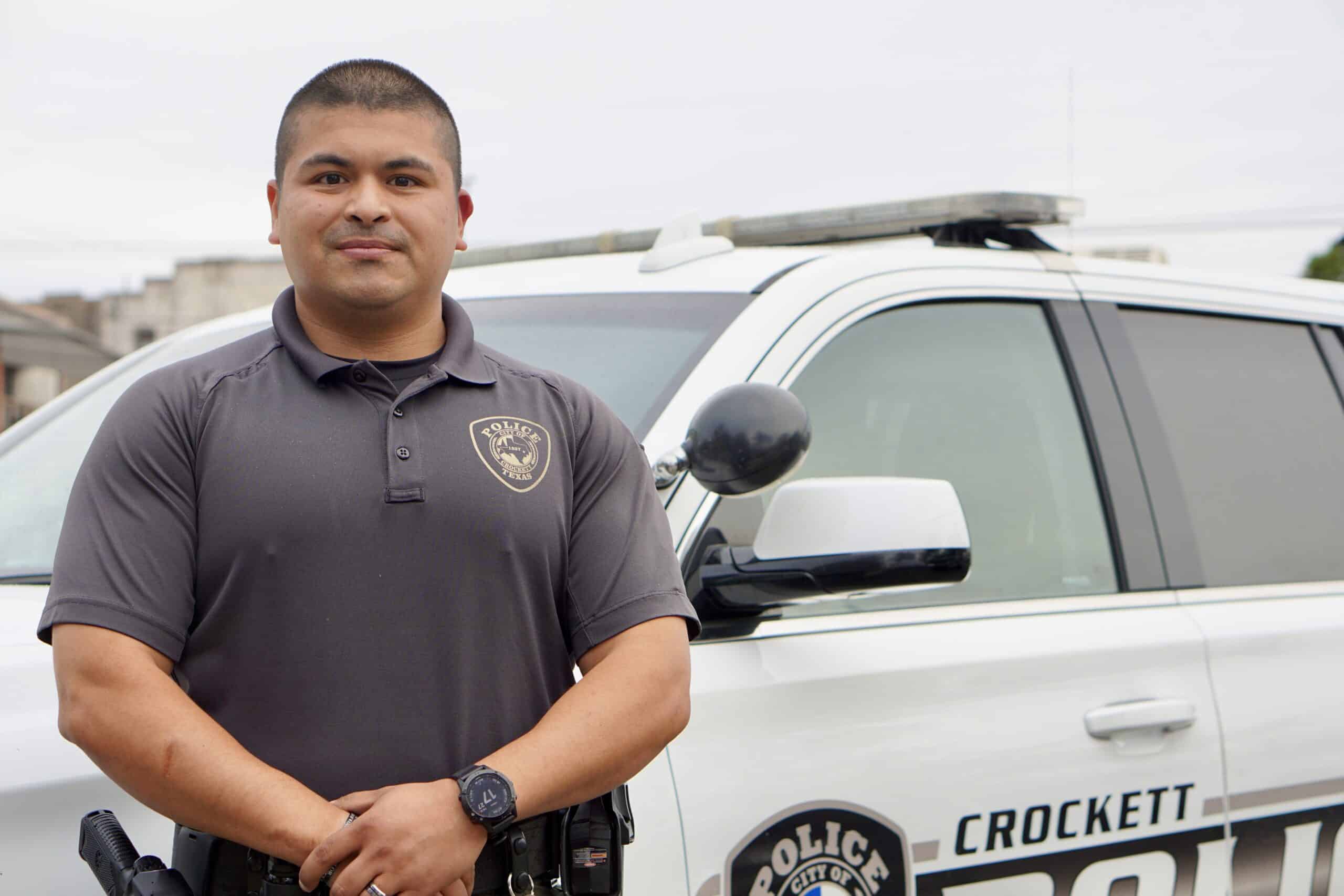 By Greg Ritchie
Messenger Reporter
CROCKETT – Crockett Police Department (CPD) Assistant Police Chief Alfredo Fajardo recently celebrated 15 years with the department. From working the night shift to moving up the ranks, Fajardo somehow always knew he would work in law enforcement. In spite of doubts along the way about his career choice, he still works to keep the city safe and his officers working at the highest level possible.
While he may no longer get to patrol the city streets as often as he might like, Fajardo is a busy man. He travels to training events throughout Houston County and East Texas and his newly-acquired administrative duties have given him a whole new perspective on law enforcement. No longer on his own watching the nighttime Crockett streets, Fajardo is now responsible for making sure all of the CPD officers have their "I's" dotted and "T's" crossed so department regulations are followed and investigations can be successfully brought to their conclusion.
Fajardo graduated from Latexo ISD in 2006 and briefly worked in youth justice before joining CPD. He can't quite remember what got him interested in law enforcement, but once the bug bit, it bit for good.
"I don't remember what exactly drew me to law enforcement. I remember at a young age I wanted to become a game warden. But at the time, when I was probably a senior in high school, my sister got hired on as a adult probation officer here in Crockett," Fajardo remembered. "She got me in contact with law enforcement and I did ride alongs with CPD as well as the Houston County Sheriff's Office. Probably my first night doing a ride along, it was really busy. There were a couple of foot chases, a couple of disturbances and I was hooked. It was just like, you know, this is pretty exciting. This is something I want to do."
Fajardo joined the force and after his initial training period, worked the night shift for five years. Slowly making his way up the ranks, he got transferred to days to do criminal investigations. But he longed for the excitement of the long nights riding in his patrol car, watching for those up to no good and helping residents wherever he could.
"I spent about a year in investigations. A lot of people love it. I thought it was really rewarding, but it wasn't really what I like to do. I like to be out on the streets. I like meeting people. I like being out in the public. Patrolling just was always my cup of tea. So, I asked to be moved back to patrol," Fajardo recalled.
Fajardo became sergeant and went back on nights for several more years. As this reporter can attest, night patrols with CPD are a world of their own. Cars move faster, fewer people are seen on the streets, but officers must always wonder why someone is out that late at night. Drunk drivers, thieves, drug runners – all prefer the cover of darkness and CPD must make quick decisions of who is just out late and who may be up to no good. As one CPD officer recently commented, the night calls are fewer but usually more intense.
When CPD Chief Clayton Smith came aboard, Fajardo was promoted to captain and moved to the bright light of the day shift and took on a more administrative role.
"At the time, I didn't think I was going to like it because, like I said, nighttime patrol was just always what I loved to do. But I've learned to really like and enjoy it," Fajardo confessed. "I took more of an administrative role at that point where instead of patrolling, I was overseeing what goes on with the department and reviewing cases – reviewing pretty much everything that goes on with the department."
Asked if he ever thought he would one day be a 15-year veteran of the force, he admitted he did – but with some doubts along the way.
"Honestly, I did. I really do enjoy it here; I love it here. At times, it was tough. Especially back in the day," Fajardo said. "The pay wasn't so great, and it's still not great, but it's a lot better now than it used to be. So there were times when money was tight and I thought I would need to find something else to make more money and have a better future. There were times that I considered leaving, but I really do love it here."
Now part of the leadership of the department, Fajardo must help CPD keep its cases clean and ready for possible prosecution. The piles of files on his desk ebb and flow like high tide – there's always more to be done.
"When you have stacks of cases on your desk waiting for you to review them and send them up to the prosecutors. I just I didn't think I would like it. But I soon learned that it's really rewarding to make sure we're sending the best cases on to prosecution."
Fajardo said CPD is trying to help modernize the force, get new technology and appreciates all the city and donors have done to help him and the other officers. Fajardo said technology may not always be cheap, but it does help officers do their jobs better, easier and solve cases a lot faster.
Asked what is the biggest problem facing the city when it comes to crime, Fajardo was clear.
"The biggest challenge, I would say, is narcotics. It seems drugs just lead to other crimes and lead to burglaries and a lot of assaults. And unfortunately, because it's such a widespread problem, and there's only a certain amount of officers, it is very difficult to attack that problem. Luckily, we have really good working relationships with state agencies like DPS, the ATF and they have the resources available to help us," Fajardo said.
At the end of the day, a police department is only as good as the support it receives from the local community. CPD officers recently served as waiters for a steak dinner to help raise money for the department. The level of turnout and enthusiasm was not surprising – CPD has earned the respect from the community.
"We're very fortunate here in Crockett; we have a lot of support. We really feel the support of the community. And that means a lot to us. There are other places where it's not like that. All you have to do is visit those places and see that the quality of life isn't too good. How can the community help? When they see something, say something. The more eyes out there, the better," Fajardo said.
Although he must spend more time than ever tied to a desk, Fajardo's philosophy on law enforcement comes straight from a veteran of all those years on the night shift, patrolling out in the real world and knowing his community.
"We deal with people when they're at their worst. We see a lot of darkness, we see a lot of sadness, we see a lot of anger. We must look at the world from not such a negative perspective. I struggled with that – trying not to be so negative about the world," Fajardo admitted. "But now, I look at it and I see the good in the community. I see that although we deal with the bad, there's still just so much more goodness out there."
Greg Ritchie can be reached at [email protected]