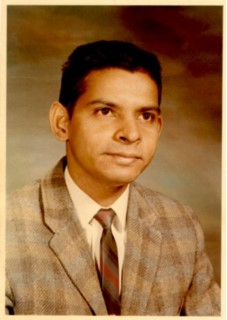 Neurophysiologist Dr. Cecil F. Ramsundar amassed a distinguished forty-seven year academic career (1971-2017) with the University of The District Of Columbia. His final thirty-eight years of perfect attendance bespeaks of his dedication, endurance, and diligence. Over time he served as a Professor in Physics, Chemistry, and Biology; however, his true passion was in teaching Nursing, Allied Health, and Anatomy & Physiology. Throughout his tenure he served in various capacities as a Pre-Dental & Pre-Med advisor, Allied Health coordinator, and Liaison with graduate and professional schools.
Although he was approached with career opportunities at various universities: Georgetown, Trinity, Texas Southern, Howard, several schools in Florida, and a university in South Korea, he respectfully turned them all down. He carefully considered the entreatment of his former Doctoral Preceptor, Dr. James Holloway, who wanted Cecil to apply to replace him as the head of Howard University's Neurophysiology Department; however, he ultimately declined this offer as well. Once he became a professor emeritus, his reflections from his days as a school monitor, a constant career day participant, scientific journal contributor, national textbook contributor & reviewer, member of several dissertation committees, and an invitation to join Faculty Row while still an active professor made him smile at his decision to stay the course of his own choosing.
Cecil was born a British National on April 6th, 1937 in Clonmel, St. Mary's Parish, Jamaica before the island's independence. He was the eldest child of the late Mr. and Mrs. Fredrick (Viola Maywa) Ramsundar, merchants and real estate investors, the vestiges of which remained with Cecil throughout his life. Although his parents were Hindu (Brahmin), he embraced Christianity while boarding at Happy Grove Prep Academy, and adhered to its tenets thereafter by teaching Sunday school, ushering, and serving as a youth counselor. These good works were not neglected upon his arrival at Texas Southern University where he eventually became a YMCA official, all of which aided him in becoming listed in, "Who's Who in American Colleges and Universities."
He received a Baccalaureate Degree in Biology from Texas Southern University, continuing with a Master of Science Degree from Minnesota, and eventually a Doctorate in Academic Medicine through Howard University's Medical School. He continued upgrading his skills via National Science Foundation Grants, seminars, conferences, research grants, peer reviews, journal subscriptions/analyses, symposia, and other collegial outreaches.
Cecil married Nathalia Celeste King, a Crockett native, on June 4th, 1964 at the Guardian Angel Catholic Church in Houston, Texas. Although they relocated for educational opportunities & career mobility, returning to Crockett always remained uppermost in their retirement planning. Cecil developed a deep and abiding love for Crockett, whereupon, he was able to facilitate the nearness of friends and family for himself and his convalescing wife. He also relished in the nearby shopping availabilities, the people, gardening possibilities, and the city's charm.
One of his deepest regrets was that he was never able to return home to Crockett to grow subtropical and exotic plants.
Many people throughout his life thought he had an eccentric personality; however, he promoted family aspirations, personal accomplishments, family entertaining, and practiced informed philanthropy.
He is survived by his wife of 54 years, Dr. Nathalia King Ramsundar, and their beloved dedicated son, Krishna Ramsundar of Washington, DC; brothers, Warren Ramsundar and Walter Ramsundar and wife, Rose of Toronto; sister, Carmen Ramsundar of London, England; an array of nieces and nephews in the US, Canada, The West Indies, and the descendants of his late Aunt Victoria Maywa Jennings; sister-in-law, Claudette King.
Funeral services for Dr. Cecil Fred Ramsundar will be held at 11 a.m. Thursday, January 17, 2019 in the Callaway-Allee Memorial Chapel in Crockett.  Interment will follow in the Glenwood Cemetery in Crockett.
Online condolences may be made at www.callawayallee.com