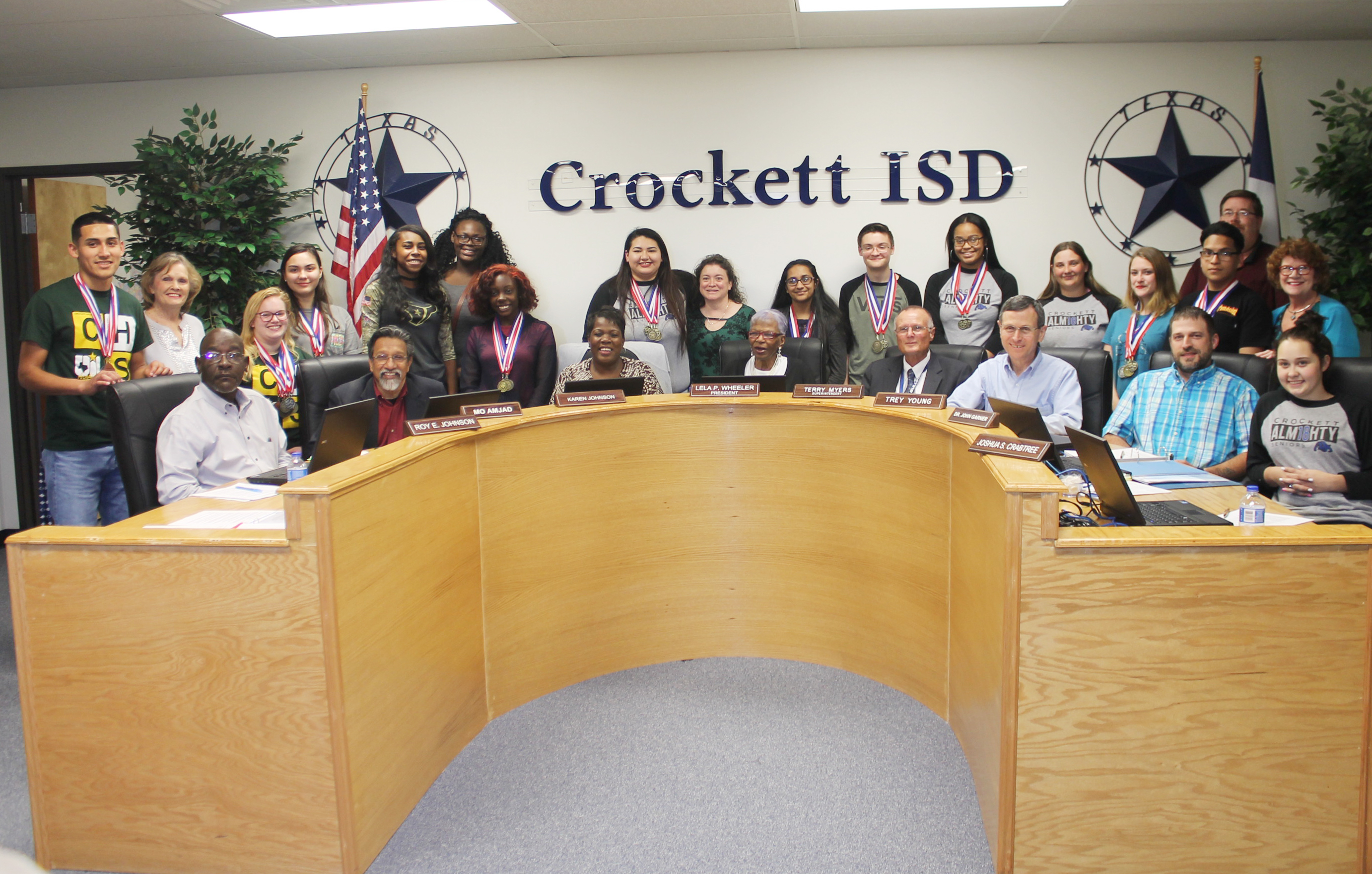 By Sarah Naron
Messenger Reporter
CROCKETT – One member of the Crockett ISD School Board remarked that "it sounds like reindeer on Christmas Eve" as the Crockett High School UIL participants – many with multiple medals clinking around their necks as a few toted cumbersome trophies – filed into the boardroom Monday, April 30 for recognition during the regularly scheduled board meeting.
"This year, we took 33 students to the district meet," explained Pamela Randall, CHS Academic UIL Coordinator. "We had 10 coaches, and we competed in 13 events, which is more than last year. Last year, I believe we only competed in 10 events. Hopefully, next year, we're going to add a couple more – a couple more coaches, a couple more events, a couple more students."
Randall praised the students who dedicated their time to prepare for the UIL competitions, pointing out that all who participated were sacrificing personal time.
"In high school, we don't have a class time period devoted to UIL academics," she said. "So, these students are studying on their own time. They're studying after school, before school, during their lunches, on the weekends. It takes a whole lot of dedication to do what they did this year."
The first team recognized by Randall was the Ready Writing team, which consisted of Holly Schuh, Jeremiah Stewart, Kara Fiolek and Tierra Dupree. Schuh received second place and advanced to the regional competition.
"For our Prose, we had Katie Bradshaw, Madison Williams, and Khushi Bhatt," explained Randall. "Madison Williams placed second for Prose, and she advanced to regionals as well."
Representing CHS as members of the Poetry team were A'Morne Sims, Ashley Moore and Tnhiaa Berry. Moore received second place and advanced to the regional competition.
"For the event of Current Events, we had Kara Fiolek, Margaret Gardner, Elian Villanueva and Sha'Bess Johnson," said Randall. "Kara placed first as an individual, Elian placed second as an individual, and the entire team placed first overall. And they all went to regionals."
Also competing was a Number Sense team consisting of Ja'Zareia Duhon, Jaida Lockhart, Erin Dotson and Uriel Hernandez. Representing CHS on the Calculator Applications team were Aaron Yates, Taronshae Johnson, Monica Espinoza and Cheyenne Kendrick.
"We had two speaking events that we participated in – the extemporaneous informative and the extemporaneous persuasive," explained Randall. "Competing under the informative was Kara Fiolek, Faith White and Uriel Hernandez. Kara placed third, Faith placed second and they both competed at regionals."
Stewart, Villanueva, Dupree and Taronshae Johnson competed in the persuasive speaking event. Villanueva celebrated a third-place win and advanced to the regional competition.
"Our Literary Criticism team was Holly Schuh, Khushi Bhatt, Katie Bradshaw and Crystal Brown," Randall continued. "They placed first as a team, and they competed at regionals as well. And that was all freshman, except for one senior."
Composing the Science team were Brianna Kirksey, Ileana Escalante, Morgan Hart, Sha'Bess Johnson and Lockhart.
"For Spelling, Jack Meadows was on the team, Sequoaih Pinkins, David Cross and LIleana Aguilar," Randall said. "Sequoiah placed third, and she went on and competed at regionals as well."
Competing on the CHS History team were Fiolek, Walker Robeson, Villanueva and Nikolas Brown.
"They put in a whole lot of work; a lot of dedication," Randall said of the students. "We had a lot more kids advance to regionals this year than we did last year. We're looking for even more."
Following the introductions, CISD Superintendent Terry Myers took a moment to address the students.
"I want to tell you how proud I am to sit up here as the superintendent and see this many students participating at the high school level," he said. "It's been a long time – this board will tell you – to have this type of student sitting in this boardroom and worrying about how cool it is or not cool it is to be smart."
As Myers assured the students, "It's cool to be smart.
"You can be called nerd all you want to, because 'nerd' four years after college is 'boss,'" he said, drawing laughter from those in attendance. "I'm so very, very pleased."
Myers told the students that they are "true leaders at this high school.
"Remember, if we're not about anything else, we're about academics," he said. "If we never win another game; if we never win another one-act play, ultimately, we are about academics in our school. Your lives are about academics. You're going to make a living one of these days with your brain. Some of us might get an opportunity to make it with a horn or with a ball or something like that, but all of us are going to have to use our brains."
Myers also encouraged the students to persuade their friends to become involved in UIL competitions at the next opportunity.
"We are very, very proud of you here at Crockett ISD," he reiterated. "Ain't nobody going to look around and say, 'Crockett's just in it for athletics' or 'Crockett students don't know very much math, but they sure can carry a horn or a football.' No, that's not what they're saying. They're saying, 'Ooh, we've got to watch out now.'"