50 Years (Nearly) and Counting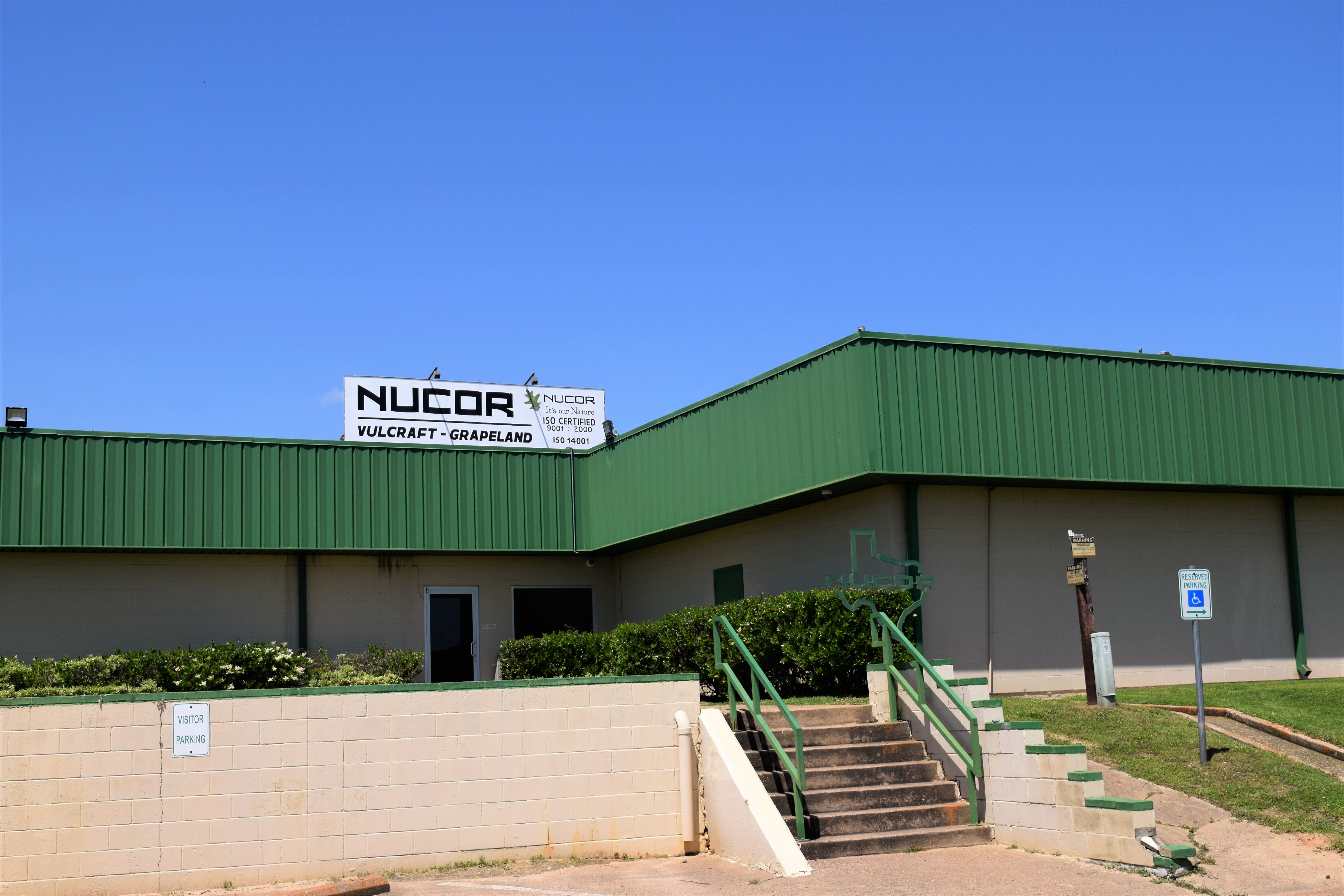 Regional Sales Manager Wayne Montgomery
By Will Johnson
Messenger Reporter
GRAPELAND – The year was 1968. Lyndon B. Johnson was president, the war in Viet Nam was raging, Martin Luther King, Jr. and Robert F. Kennedy were both assassinated and the first manned spacecraft orbited the Earth on Christmas Eve.
The year of 1968 also saw Vulcraft, a Division of Nucor, open its doors to the world in Grapeland. Shortly after the steel giant began to make and ship joists from the Grapeland location, Wayne Montgomery joined the Vulcraft team and is still there after nearly 50 years.
This year, Vulcraft will celebrate its 50th anniversary in Grapeland and since Montgomery has been there almost since the beginning, he was asked to give voice to his perspective on the company and the many changes he has seen during his tenure.
"I just happened to be in the area and dropped in," Montgomery said as to how he found his way to Vulcraft. "I was in the right place at the right time."
Montgomery, a Regional Sales Manager for the company, said he believed the plant had been in operation for about nine months when he walked into the offices.
"I interviewed with the sales manager back then and he called me a couple of weeks later and offered me the job. I came to work on March 10, 1969. I just happened to be at the right place – actually the Lord put me here and I've been here ever since," he said.
Asked if he ever imagined working at Vulcraft for nearly half a century, Montgomery said it had never crossed his mind.
"It's a blessing. I enjoy what I'm doing and that makes a lot of difference," he said.
One of the big changes Montgomery said he has witnessed is the physical growth of the plant.
"It was about 25 percent the size of what it is today. I never dreamed it would get to the size it is now – it's four times bigger than it was back then," he explained. "Just for historical information, it was in the spring of 1968 when the first joists were produced here."
Initially, Vulcraft started out with 110 employees but now employs 320 at the Grapeland plant "… and approximately 50 more in our field offices, so nearly 400," he said.
"When we got started, Dave Aycock – who was actually in Norfolk, Neb. – he was the acting general manager for both divisions (Norfolk and Grapeland), at that time. He would periodically come down here but when we finally did get our own general manager, that was Bill Kontor," Montgomery said.
As he continued, Montgomery indicated while the company had gone through significant change since he started way back in 1969 he added "… it's all been steady improvement."
"One of the incentives for the people who started to work here was the high incentive pay system that was set up. They made very good money for this area," he said.
Another area the company has always been noted for is safety. Montgomery said the safety measures implemented by the corporation have kept up with or been ahead of the times.
"There has been a great improvement and that's the first priority of all of Nucor Corporation. The motto is 'Safety First.' We hear that day in and day out – safety first.
During the conversation, Montgomery said he believed the decision to locate the Vulcraft plant in Grapeland had been – and still is – a two-way blessing.
"It gave jobs to support the families and kept a lot of the children close to home. It used to be when they got out of school, they had to move away. Now, they didn't. They had a place they could apply at and go to work," he explained.
The second part of that blessing, Montgomery expressed, was to give Vulcraft "… a Christian-based work ethic that was beyond compare. You couldn't have found this work ethic anywhere else. It has paid off for Nucor and also for Vulcraft."
Another of the more significant changes, Montgomery recalled, was the addition of steel decking to the plant's production model.
"When we started out, we only made joists and maybe joist girders. Now, when we decided to get into the decking business that was a really big deal. The steel deck plant was constructed in 1978 and we rolled the first sheet of deck on April 25, 1978," he said.
Going into decking was a logical step for the corporation, Montgomery asserted.
"When we went into the decking business, we were the only joist manufacturer that was rolling deck," he said. "That was a big deal. It put the pressure on our customers because we could offer them one price. Our competitors had to get several prices from other manufacturers, just to be able to match up with us."
"That has played out great. First, the roof deck, and later on, the floor deck. It all came together very well. It's been pretty lucrative since we got into it. Our competitors didn't like it when we got into the decking business, but we did. That's been one of the biggest things to happen in our market – when we decided to go into the deck business," he said.
The Nucor Corporation wasn't always named Nucor, Montgomery explained as the discussion continued.
"It started out as the Nuclear Corporation of America. Nuclear was part of a rare minerals operation and it just happened through a variety of changes Nuclear changed to Nucor. The corporation came onto the market at a good time and it has worked well for Nucor and this whole area," he said.
As it turns out, Nucor goes back even further, according to the corporation's website.
"In 1905, Ransom E. Olds, creator of the Oldsmobile, had a dispute with stockholders and left his own company — Olds Motor Works. He soon formed REO Motor Company, which evolved into the Nuclear Corporation of America and ultimately, Nucor," the website states.
While REO was successful at first "… REO ultimately relied on defense contracts to stay in business. And when the Korean War ended in 1955, so too did REO. Its assets were merged with Nuclear Consultants, Inc. to form Nuclear Corporation of America."
In 1962, the Nuclear Corporation of America acquired a little known company named Vulcraft, which produced steel joists and girders. That was the same year Ken Iverson was hired to run Vulcraft.
The company nearly declared bankruptcy in 1965, but with Iverson at the helm, the corporation's fortunes were soon reversed. The corporate headquarters were relocated from Phoenix, Ariz. to Charlotte, N.C, and in 1972 "… the name of the company changed from Nuclear Corporation of America to simply Nucor," according to the website.
"One thing I can say," Montgomery asserted, "while we always wondered what the people at the corporate level were doing, they made very smart and brilliant moves in a very timely manner."
#vulcraft #Nucor