Vulcraft Welcomes Chad Beard as GM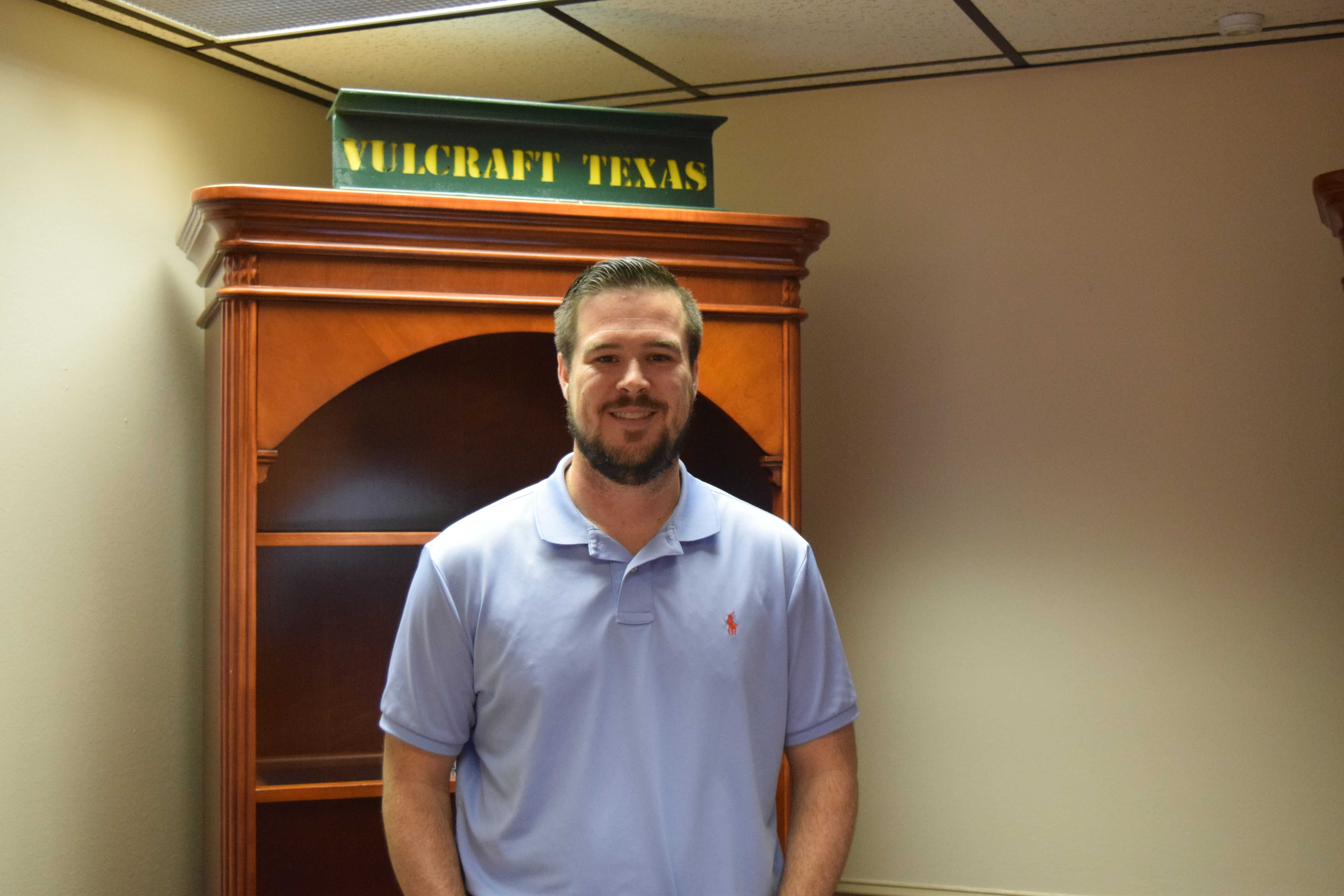 By Will Johnson
Messenger Reporter
GRAPELAND – After former Vulcraft General Manager Kevin Barksdale was tasked by Nucor to help manage a plant in Alabama, the top spot in the Grapeland steel plant was vacant.
It didn't sit empty for very long as Nucor moved Chad Beard into the GM's position.
Beard has been with Nucor for over 10 years.
Originally from Cincinnati, Beard said after high school he attended Ohio Northern University where he played football for the Polar Bears and received his accounting degree.
"I worked in the banking field right out of college and then ended up at Nucor in Indiana," he said.
Beard started with the Nucor plant in Crawfordsville, Ind. From there, he went to the Vulcraft plant in Ft. Payne, Ala. and later to the Nucor division on the west coast as the general manager of Verco Decking.
Asked what led him to transition from banking to steel, Beard said, "I got sick of wearing a tie every day!"
"The banking corporate structure was simply not for me," he explained. "For some, it works. I wanted an opportunity to impact a business every day. Through some contacts, I heard about this company called Nucor so, I went and interviewed. It all sounded too good to be true, but I thought I might as well give it a try and it seems to have all worked out."
He said his first position with the Fortune 500 Company was as a financial analyst. In that role, Beard said he dealt primarily with fixed assets.
"After about eight months," Beard continued, "an opportunity for an accounting supervisor opened up. I did that for three or four years. Then, I went to the Vulcraft in Ft. Payne, Alabama as the division controller. I did that for about four years and then I went to Verco Decking as the general manager."
On a personal note, Beard said he will have been married to his wife, Libby, for 13 years this coming May.
"We have four daughters. We have an eight-year-old named Maeve. We have a six-year-old named Adele. We have a four-year-old named Nora and then we have a two-year-old named Annie. Currently we are still in the transition part. We hope to have the entire family out here by mid-February," he said.
Beard also emphasized he was very blessed to have such a supportive wife because of the moves with one, two, three and four children from Indiana to Alabama to Arizona and now to Texas.
"To have her support and her support for my career – I couldn't have done it without her. I'm very lucky," he stressed.
As to how he came to Grapeland, Beard said he knew about a few openings in the company "… but really didn't get to pick. I knew in my heart and in my mind, this division (in Grapeland) was a great division. The rich history and the team here – before I came here on Day One, I had multiple phone calls saying, 'You're going to one of the best teams in Nucor.  They are great teammates.' I am excited and humbled to be here."
When asked about what appears to be a youth movement in the world of Vulcraft and Nucor, the 36-year-old Beard said he really doesn't think about it that much.
"I don't read too much into it," he said. "At Nucor, we look for leaders who can come in and make the team successful. No matter where you're at in your career, that is what we look for. I understand the importance and magnitude of the position. It is a privilege to be here and I plan on contributing in any way I can."
Questioned about his management philosophy, Beard said he felt his job was "… to make sure this team is successful. Servant-leadership is very important to me. I also believe you have to inspire and motivate. There are a lot of different ways to do that. The way I do that as a leader is to show my intentions are genuine. My intention is for us to reach our capabilities and for us to reach our potential."
Goal-wise, as Vulcraft approaches its 50th year anniversary in Grapeland, Beard said his goal is for Vulcraft to be around for another 50 years.
"We need to drive the short term goals of the company but keep an eye on the long-term. One of my goals coming in is that yes, we will drive short-term results, but we will put things in place where one day someone will be sitting in this chair talking about the 100th anniversary of Vulcraft. I hope myself and the team that is currently here can put those things in motion," Beard explained.           
Will Johnson may be contacted via e-mail at [email protected].