Boutique Features Apparel for Women and Infants
By Will Johnson
Messenger Reporter
GRAPELAND – A new apparel shop opened in Grapeland on Friday, Sept. 8. Known as "Sweet Southern Britches," the store will feature "… a sweet and sassy fashion line of apparel for the ladies and a line of boutique apparel for infants and toddlers," according to the shop's website,
A partnership between a mom (Latisha Yates) and her two daughters (Chelsea Brent and Meagan Currie), the boutique is located at 225 Plum St., in the former W.A. Brown real estate offices.
Prior to the grand opening, the Grapeland Area Chamber of Commerce hosted a ribbon cutting ceremony for the city's newest business and afterwards, Currie and Yates spoke about their stylish emporium.
"We have been running our business – Sweet Southern Britches – for a couple of years now out on the road by doing festivals and stuff like that. Eventually, we had an opportunity to buy this property and decided we would like to expand our business into a store and have local residents come in and shop," Currie said.
The partners were asked where their travels with their clothing lines had taken them. Currie replied she and her mom "… had gone from Crockett to Conroe to Tyler to Jacksonville. We have done all of the Christmas festivals, summer festivals and any type of festival you can imagine between Conroe and Tyler."
As to how the business came about, Currie smiled and said, "It really started when my mom had granddaughters. She wanted to be able to buy for her grandkids."
"We've always been involved in doing arts and crafts," Yates added. "With the grandbabies coming along, I just decided it was easier to make it – especially when I couldn't find something locally – or to run off to Tyler every time you wanted something cute for the grandbabies to wear. I started stocking up and buying stuff for them. Eventually, I expanded into a small children's boutique and gradually we grew into this."
Yates explained the reason she located the boutique in Grapeland is because her roots are here in the Queen City of the Sand Flats.
"We've lived here for seven or eight years now and I actually graduated from Grapeland High School. I lived in Conroe for about 15 years, then I married Guy (Yates) and we moved back," Yates said.
The boutique officially opened for business on Friday, Sept. 8.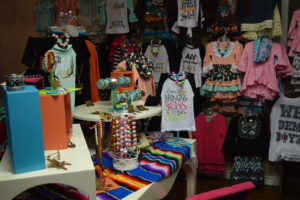 "We will be open on Friday from 3 p.m. until 6 p.m. and Saturday we will be open from 10 a.m. until 4 p.m. That will be our official grand opening. Then, we will return on Tuesday for our normal business hours. Tuesday through Friday we will be open from 10 a.m. until 6 p.m. and on Saturday we will be open from 10 a.m. until 2 p.m.," Currie said.
For more information, please call 936-689-7156.
Will Johnson may be contacted via e-mail at wjohnson@messenger-news.com.