Fisher Wins Re-Election as Crockett Mayor 
By Greg Ritchie
Messenger Reporter
CROCKETT – Elections for Crockett mayor and two city council positions were held May 6, 2023 as Dr. Ianthia Fisher won reelection for another term as mayor and Precinct Two Councilman Darrell Jones was reelected.
City officials reported no irregularities or problems either in the early voting or election day operations. Sources and poll watchers at some of the voting locations told The Messenger the day was smooth and uneventful, with candidates and voters complying with laws and the vote proceeded without issue.
In the race for city council precinct one, incumbent Gene Caldwell moved recently into precinct two, leaving the position open. The three candidates in the race, Dennis Ivey, Samantha Wiley and Joe Don James all sat together for several hours at the precinct one voting location waiting for the polls to close and provide a winner. The early votes, released by the city after all polls had closed, gave an indication of where the race might end up. Ivey began the night with 85 votes, Wiley with 43 and James with 24.
In a three-way race such as this, one candidate would have to capture over 51% of the vote in order to avoid a run-off election. As it turned out, the speculation about a possible run-off was unfounded, as Ivey won with a comfortable margin. The final vote showing a win for Ivey with 151, Wiley 79 and James 38.
In the hotly contested race in precinct two, incumbent Darrell Jones faced former Precinct One Councilman Gene Caldwell. In a race held in large part online, the two were fierce against each other, joined by their supporters. Incumbent Jones came out with a strong lead when early voting results were announced: 94-35, a lead he never relinquished, winning with a vote of 129 for Jones and 65 for Caldwell.
The race for Crockett mayor was the main event of the night for many, with incumbent Dr. Ianthia Fisher seeking reelection against challenger Connie Strban, a local real estate broker. With each running very different styles of campaigns, local residents could see one or the other or one of the many signs scattered about the city.
After 7 p.m. once polls have closed, the city released the early voting numbers which were strong for Fisher, 338-178. The mayor cruised to reelection, with a final vote total of 550 to Strban's 306, or about 64% of the vote.
The Messenger caught up with Fisher to ask her reaction to the recent election.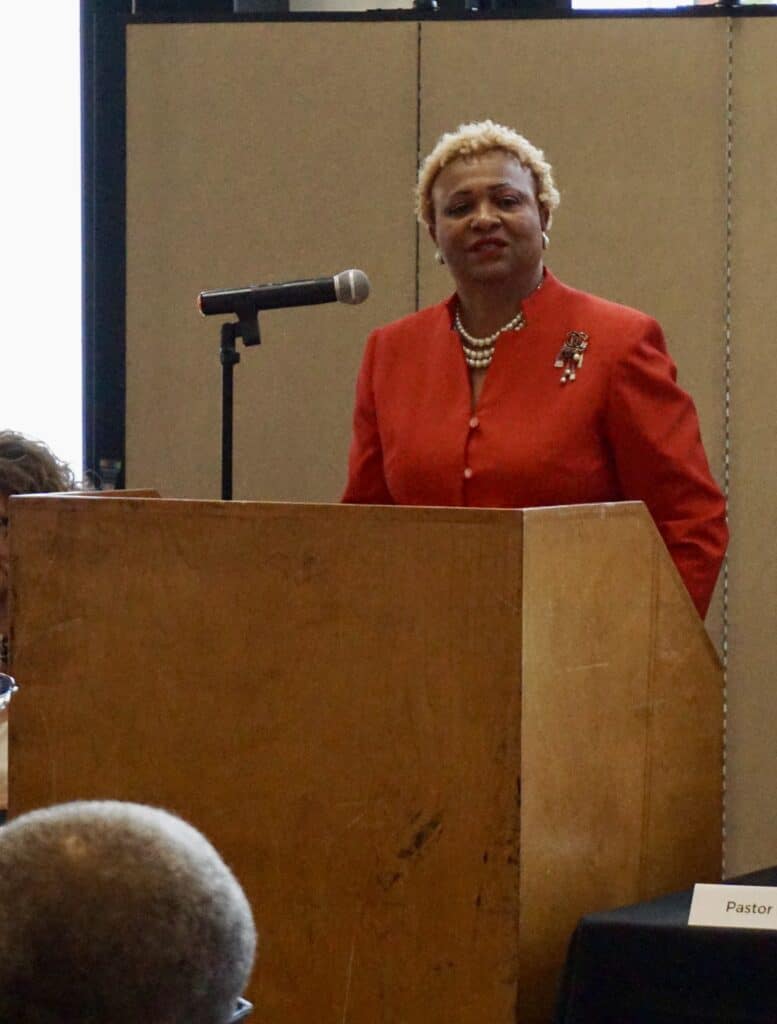 "I am grateful, in spite of some of the miscommunication, that people were able to come to consensus about and maintain the correct focus. And the focus was in continuing the work that has been done," Fisher said. "So I give God the glory for giving people the right heart, mind and spirit to go forth."
Fisher went on to predict better things to come for the city of Crockett..
"We have a lot of things we haven't been able to complete because in my first two terms, we really had to get organized. We didn't have a real platform to work from and we didn't have the right people. Now, the foundation is already laid and we will be able to see a lot more things happen than even in the first two terms, simply because we won't have to go back and reinvent and reorganize. I believe in our council and we are blessed to have a council that sees where the needs are and willing to work hard for those needs," Fisher concluded. "I am convinced we will not waste time and I'll be working to a purpose – to get things done."
Greg Ritchie can be reached at [email protected]