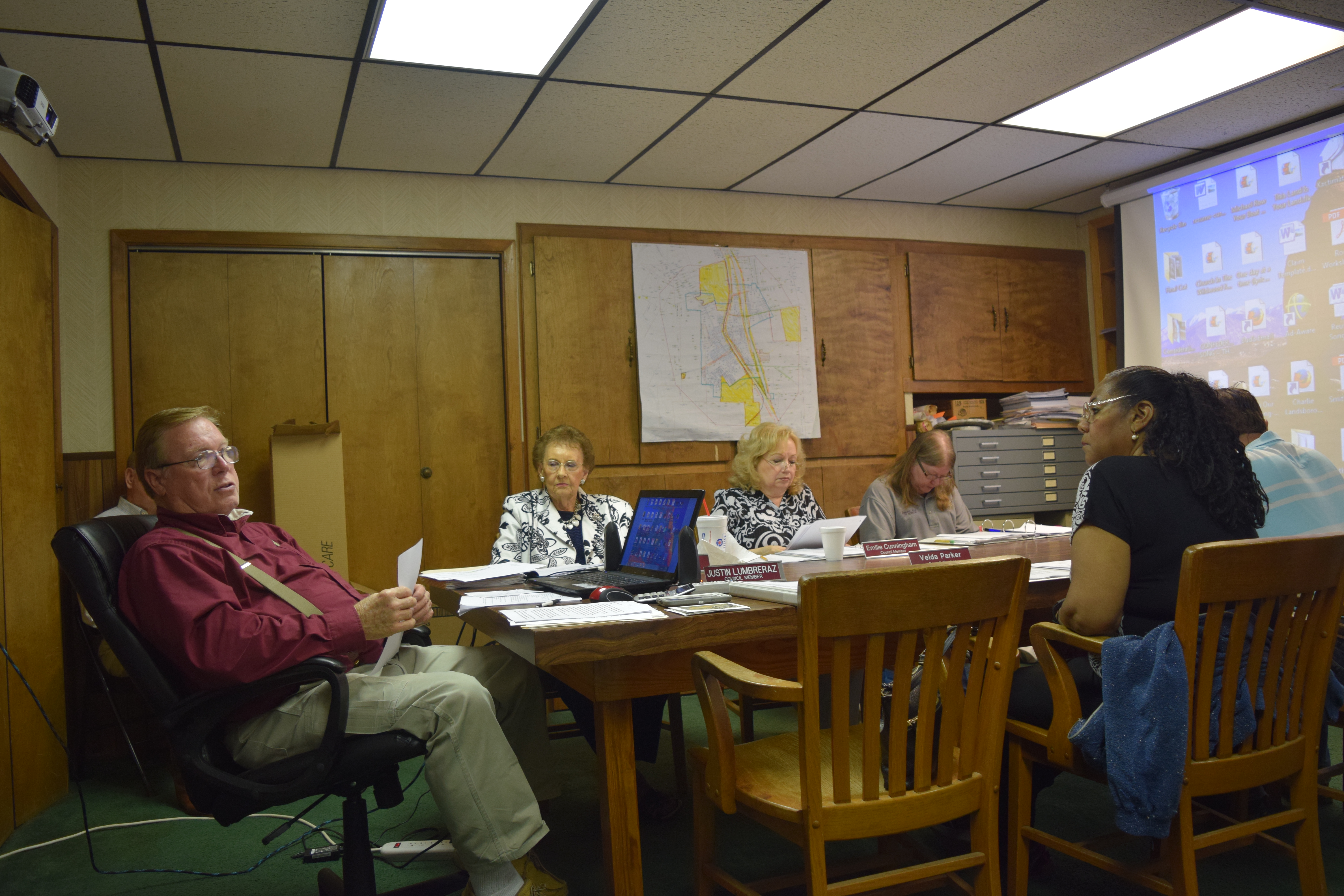 By Will Johnson
Messenger Reporter
 GRAPELAND – Grapeland Mayor Balis Dailey addressed the Grapeland City Council about the city's status during Fiscal Year 2016-2017 during a lengthy, regularly scheduled meeting of the council held on Monday, April 11.
As he began, Daily outlined four critical areas for the success of the city.
"One is on the economic view of our vision as to where we are going as a community. We need an industrial strategy which we have underway. Number two is we have retail. On retail, there is not a lot we can do. We have lost three businesses in the last two or three months but one has re-opened. That's Joe's Garage but that was a shift," he said.
Dailey said the third area involved events and reminded those in attendance of a barbecue cook-off and car show would be held on May 6 in the City Park.
"Primarily, Salmon Lake had two and we had the Peanut Festival," he said.
Dailey commented the New Year's Eve event through the Chamber of Commerce had been successful and stressed he would like to see an event held at least once every other month.
"The last part of the vision is revitalizing the downtown area. That cannot come in to play until we have at least two or three of these others being successful," he cautioned.
As the meeting continued, Dailey said the public could soon expect rate increases when it came to their utilities.
"I am saddened to tell you tonight that every single public utility is going through the Public Utility Commission and the Railroad Commission for an increase. The increases are expected to impact us with a seven to 12 percent increase. It's a killer," he said.
When he began to recap the year, Dailey said the city had cut expenditures and staff and had been forced to cut salaries by 10 percent as well as eliminating compensatory time. In total, he commented the city was able to save nearly $400,000 and had implemented several cost savings measures.
"Through those efforts and several others we were able to move into a Standard and Poor's rating of A-, which was almost a miracle. We were one of the few small cities that were able to achieve this. We would have got an A but the bond issues were outstanding on us and they were not properly taken care of, but they are now," he said.
After a few comments about the city's water and sewer infrastructure, Dailey looped back to the bond issue.
"The bonds for the sewer plant have been paid for well over 17 years. One of them has been paid for well over 20 and yet we still have another 10 years to go on them. Unfortunately through improper knowledge or whatever happened, those bonds were not negotiated well," he said.
"What they did was," the mayor continued, "there was very little paid on the front four or five years and that threw everything to the back half of it – to the last 10. So, you had an increase in interest rates going up all the way to 5.35 percent. Then you had an increase in principal which meant that you also had an increase in the total cost of the bond."
"So the bond wasn't really what it cost, it was more like twice," he said. "I want to warn you that is the same situation that exists with the school bond. It is not $7.75 (million) or $7.5 (million), it is more like $15 or $14 million you are obligating yourself for."
Dailey continued, "The school district can't be faulted because they do not know what that bond is going to be until they are offered – based on what someone is going to sell it for. When they sell it, that's when – there are all kinds of ways to structure bonds. That's kind of interesting. It is what it is. The voters will vote and they will have a say. The school district will have a meeting coming up and those that are interested can go to that."
According to the official ballot published in the April 13 edition of The Messenger, voters will be asked to vote for or against the following proposition: "The issuance of $7,750,000 of bonds for the construction, acquisition, renovation and equipment of school buildings in the district and the levying of the tax in payment thereof."
GISD Superintendent Gregg Spivey and several members of the GISD Board of Trustees have confirmed the bond initiative is for $7.75 million and not $15 million.
Prior to the city's status update, several upcoming events were discussed and approved council approval. The first event discussed was a Worship Service in the Park through the First United Methodist Church to be held on April 30.
Vicki Braun was present at the council meeting to discuss the event and asked if the fee for the City Park usage could be waived. She said the service expected to draw between 120 and 130 people. After several minutes of discussion, the council agreed to waive the fee but the church will be responsible for all utility fees incurred during the worship service.
Donna Sprinkle, with the CR8 Center spoke next and reminded those in attendance of the upcoming, community wide Easter egg hunt scheduled for Saturday, April 11 in the City Park.
Sprinkle was followed by David Shepherd who spoke to the council about a program called "Know Your Rights." The program is designed to teach children to know what their rights are and are not. He said he was hoping to conduct the program before the end of school. No formal decision was made on the matter and he was referred to Grapeland ISD for assistance in conducting the seminar.
Dailey added the Farmer's Market, sponsored by the Chamber of Commerce, would crank up once again on May 13.
In other matters brought before the council:
Consent Agenda items were approved by the council.
The Municipal Court collected a total of $15,562.32 comprised of $9,039.70 in city revenue, $4,562 in state revenue and $1,870.62 in delinquent fees. There were 47 citations written, 63 total dispositions, 14 warrants issued and 10 magistrations at the Houston County Jail.
Grapeland Police Chief Don Myers reported his department had five agency assists, five animal complaints, three assaults, one burglar alarm call, two civil matters, two criminal trespassing calls, one deadly conduct call, three disturbances, five information calls, two follow up investigations, one lost property call, one motorist assist call, one prowler call, four shots fired calls, one retaliation call, one suspicious person call, two traffic accident calls, five warrant service calls, six welfare checks and two calls about suspicious circumstances. The police chief added there were 10 arrests in the month of March. He also provided the racial profiling report for the first quarter of 2017.
City Superintendent David Malone reported the city used 5,077,000 gallons of water from the municipality's water wells. There were 3,424,000 gallons of water sold during the month of January and 3,076,000 gallons of wastewater were treated, for a daily average of 99,225 gallons.
Houston County Fire Marshal and Grapeland Fire Chief Roger Dickey said the fire department responded to a total of nine fire alarms for the month of March which brought the year-to-date total to 20. He added there were 15 EMS calls for the month which brought the year-to-date total to 28.
The Grapeland Economic Development Corporation budget was approved.
Will Johnson may be contacted via e-mail at wjohnson@messenger-news.com.