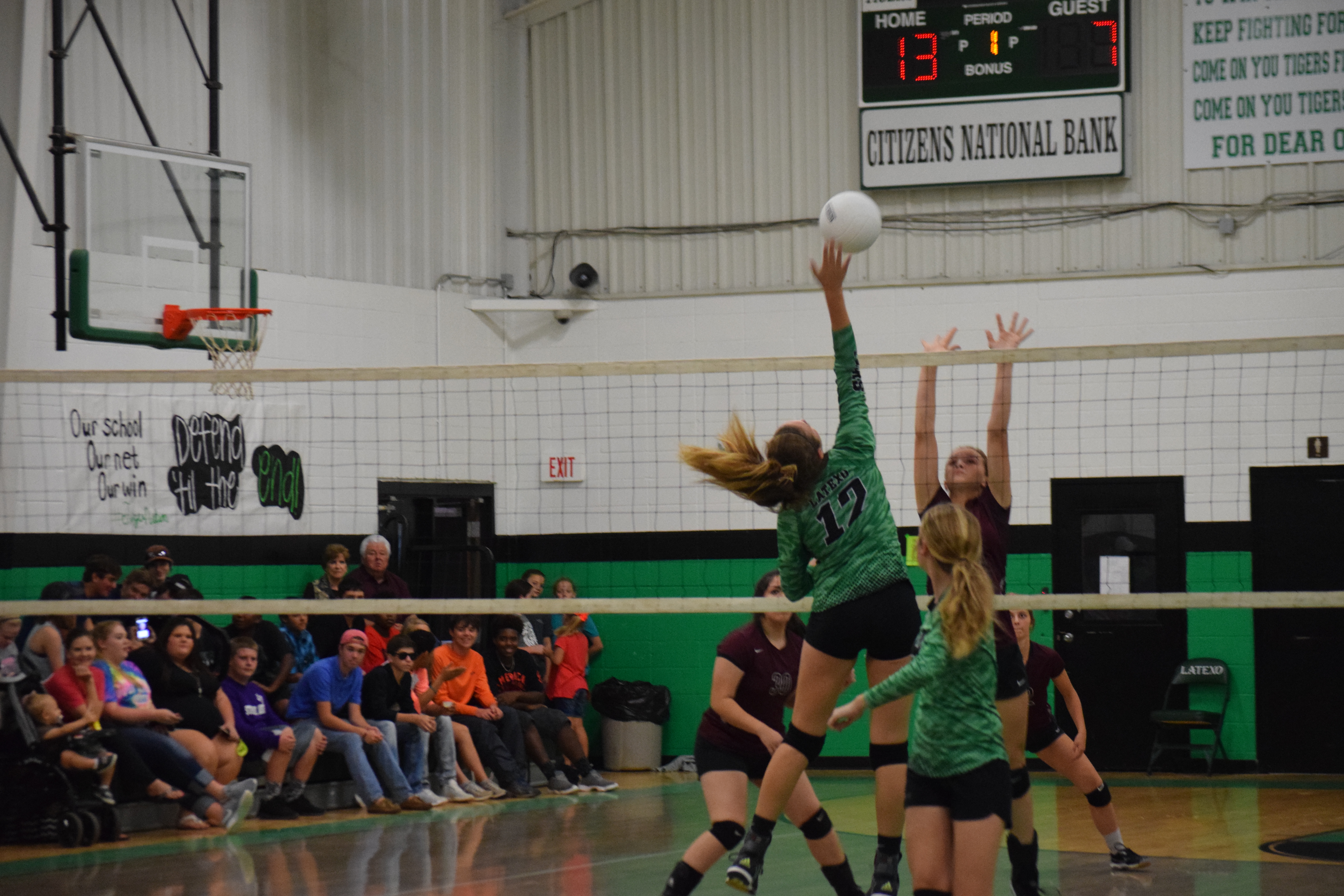 By Will Johnson
Messenger Reporter
LATEXO – The Latexo Lady Tigers kept their flickering playoff hopes alive last Tuesday, with a three set sweep – 25-18, 25-16 and 25-18 – of the Lovelady Lady Lions. Latexo came into the match with a district record of 1-5 while Lovelady sported a record of 2-4, with one of their wins coming in a five set match over the Lady Tigers.
In the first set of the Tuesday contest between Houston County foes, the Lady Tigers and the Lady Lions engaged in a back-and-forth struggle until Latexo began to pull away and took the opening set by a score of 25-18.
Latexo opened the second set with a 10-4 run, but Lovelady hung tough and managed to cut the margin to three with the score 15-12. The Lady Tigers kept held their composure and went on another run 9-1 run to put the set out of reach and coasted to a 25-16 win in set number two.
The final frame saw the Lady Lions keep the set close at the outset but the Lady Tigers seemed to be on a mission. Lovelady played hard throughout the match but the third set outcome was never in doubt after the score hit the 10-6.
The win moves the Lady Tigers district mark to 2-5 and drops Lovelady's mark to 2-5 as well. Both teams are still very much alive for the playoffs as four teams will go to the postseason from District 22-2A.
Following the match, Latexo Coach Katie Brown commented on her team's play. "We have worked on some things (since they last played Lovelady) and came out to win instead of playing not to lose. We were more aggressive in the first game. All-in-all, we were playing together, we were talking and we were motivated – whole nine yards," she said.
Coach Brown said the Lady Tigers are still alive in the playoff race but stressed, "We have to do our part. There is no ceiling for our team. We came in with an aggressive attitude at the beginning of this year. It is a new program and we just keep going and going. We only have three seniors this year and we are looking better and better as the season goes along."
The Latexo Lady Tigers faced the Kennard Lady Tigers on Friday, Oct. 7, while the Lady Lions were at home against the Centerville Lady Tigers. Final scores were not available as of press time.
Will Johnson may be contacted via e-mail at wjohnson@messenger-news.com.