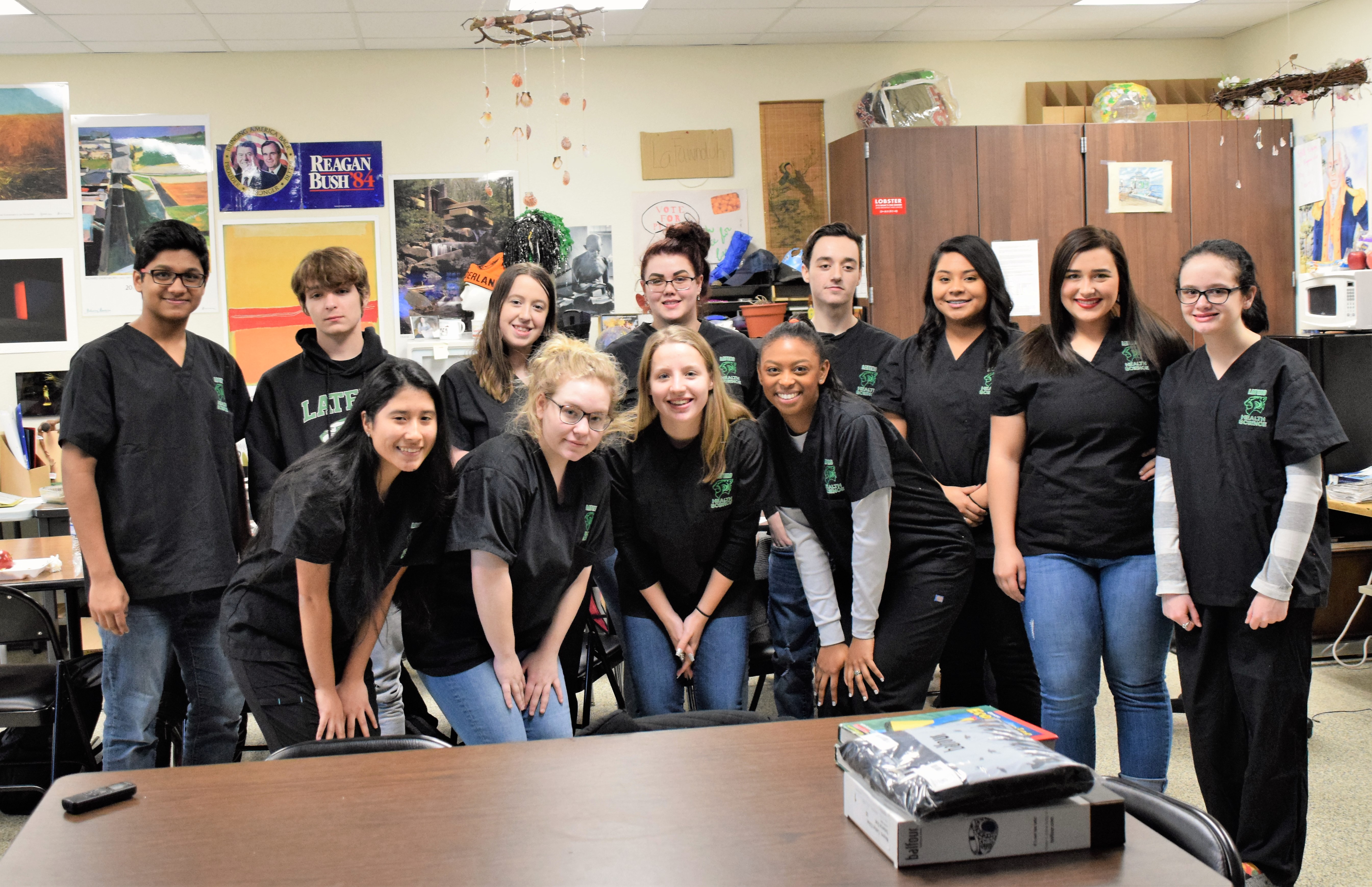 Spotlighting Latexo ISD's Health Careers Program
By Will Johnson
Messenger Reporter
LATEXO – The Latexo Independent School District has introduced a health careers program for students who might be interested in pursuing a career in a health related job or career.
An offshoot of this is the Health Science Club and on Wednesday, March 6, club sponsor – and LISD history, government and economics teacher – Chris Cravens spoke to The Messenger about the club and what Latexo ISD offers to students who are interested in the healthcare field.
"The Health Science Club is for students who are in the health sciences program or are interested in going into health science careers after high school," he said.
"This helps get them exposure to health careers through guest speakers coming to speak to us about the different types of careers in the healthcare field and what those jobs entail. The students also get exposure through field trips," Cravens indicated.
One of the field trips will be to Davy Crockett Drug Company in Crockett where they will learn what pharmacists do on a routine basis.
This will tie in to the pharmacy technician program offered by LISD, Cravens said.
"When a student goes through the pharmacy tech program and they pass their national test to get certified, the owners of Davy Crockett Drug Co. said to contact them and if they have any openings they will take the kids," he explained.
The LISD Health Careers Program and Health Science Club both help to give students another area from which to choose a possible career path.
"The students can graduate – even if they don't go to college – they can graduate with a certification and get a good job that's better than minimum wage," the teacher indicated.
Among the certifications Latexo ISD students can attain are:
Certification in phlebotomy.
Certification as a pharmacy technician.
Future certification as a certified patient care technician.
Future certification in coding and billing.
Future Certification as an EKG technician.
"It's not just certifications, though," Cravens clarified. "We have other classes and this is our scope and sequence. We start the students off with the Principles of Health Science which gives them information about what is out there in the health sciences field and what they can do. We also offer medical terminology which helps students who go on and don't want to get just a certification. Maybe they want to go on to college in a couple of years. That's a pre-requisite for a lot of nursing schools."
The district also offers a health science theory class and when students get to the senior level in high school, there is a practicum "… where we get them out in the real world and they shadow someone, whether it's a clinic or a drugstore. They gets hands-on experience."
Cravens said students already had the options for medical terminology and phlebotomy classes and the plan was for the district to add the other classes in the near future.
"Next year is when we are going to start the full program. Our nurse (Krystal Patterson) who is teaching some of these classes is going to be a full-time teacher and the district will hire a nurse to take her place," he indicated.
Currently, there are 16 members in the club and 23 students enrolled in Health Careers Program.
Several students in the Health Science Club were also asked for their thoughts on the club and the Health Careers Program.
Kwynci Smiley said, "We are exploring different health careers. All these people are interested in going into the medical field so we're exploring different options. We talk about what it will take to get us there and to be successful."
Asked what interested her in the medical field, she said, "I'm into helping people – however I can. The medical field is somewhere that all you really do is help people. In the beginning, I wanted to be an EMT but now I'm more interested in dentistry."
Next up was Jaden Stanley.
"I want to become an anesthesiologist to help people. One day, I had an epiphany that I wanted to help people. It will be a lot of work," he said. "The club has helped me learn about the different fields everyone wants to go into."
Hasain Asad said one day he would like to be a neuro-surgeon.
The aspiring surgeon was asked what intrigued him about the brain and he replied his curiosity was peaked after watching a 2014 movie named "Lucy."
"I saw that movie for the first time and I was fascinated by the concept of your brain being able to access all these ports. Being able to access 100 percent of your brain – I know it's fake but after watching the movie, I started doing my own research and began to discover all this new stuff. I thought, 'You know what? I want to go into this field.' I enjoy learning and I would like to know more about it," he said.
Taylor Upshaw indicated she would like to be a pharmacist one day.
"I joined the club because I want to be a pharmacist one day. The classes that are offered now and the pharmacy tech program next year are both going to help me to do that. We are also going to have speakers come in and hopefully I'll gain more background knowledge on what it takes to become a pharmacist," she said.
Will Johnson may be contacted via e-mail at wjohnson@messenger-news.com.