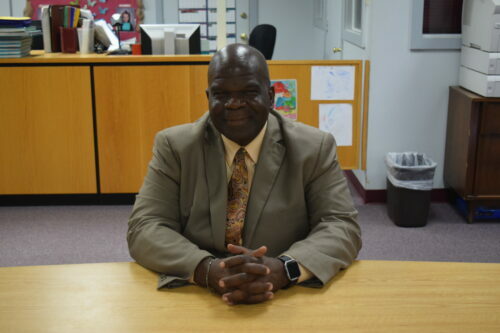 Special to The Messenger
GRAPELAND – The month of June was running along slowly and I was thinking OK I got time… Well, then came July and time began to fly. I was thinking I'm not ready, wait I'm not ready. However, time would not wait in the 2018-19 school year was upon us.
During the month of June I had just received my first evaluation as a superintendent from our board. I was pretty confident going in, but I soon learned just how honest they all were. As new board president, James Martin put it… He said – and I quote, "There are some things that you are doing well, but there are more things that we want you to do."
Well personally I thought we had a pretty good year last year but after about a couple hours of being disappointed with my evaluation, I realized how much I really appreciated my board for giving me just what I needed a challenge. Then we went to our summer leadership training and then they gave me some specific goals to work on through some deep communication and collaboration.
Well school is now in session and I am glad to report our Team of 8 approach to leading Grapeland ISD has us headed in the right direction. School safety is at the top of our list and we are addressing some needs to make our students and staff safer. Also, during the month of August our community was strong in and helping us prepare for school. First Baptist Church of Grapeland and First United Methodist Church opened their doors for our staff to have food and fellowship. Prosperity Bank and Nucor Vulcraft supplied us with awesome meals.
Finally, Light on a Hill Church, First Baptist Church, Oak Grove BC Felder's Chapel, New Salem BC, Mt Zion BC and Cedar Creek BC were gracious enough to be a tremendous blessing to our students and parents by supplying their school supplies and supplies for our teachers. This is a testament of the unity that we have in this community and it makes me so proud to be a part of it.  Thank you all from the bottom of our hearts for your generosity. It is our commission to have a school district that our community can be proud of. Together the school and the community can and then will make a difference in the lives of our future leaders.
In conclusion every home or organization must have a room attached… Room for improvement… Just like our school board told me that it was room for improvement; I now take that commission to our students and staff. On August 18th the Texas Education Agency released their accountability ratings and Grapeland ISD ended up with a D RATING. This was and is confirmation that we certainly have room for improvement.  We have already begun to plan for success and we are striving to lead Grapeland ISD to greater academic results. I truly believe that we can be one of the best 2A school districts in the State of Texas.
We can be academically stronger and we will be academically stronger because I know that with the right mind set, that there is nothing that our students and staff can't do. Finally, I am so appreciative of all of our students who have come home to learn with us. I am equally proud to have those students whose parents have chosen to transfer into our District. We owe all of our students the best that we can possibly give them and I need to let our great community know. We don't take this responsibility lightly. May God continue to bless this great community.