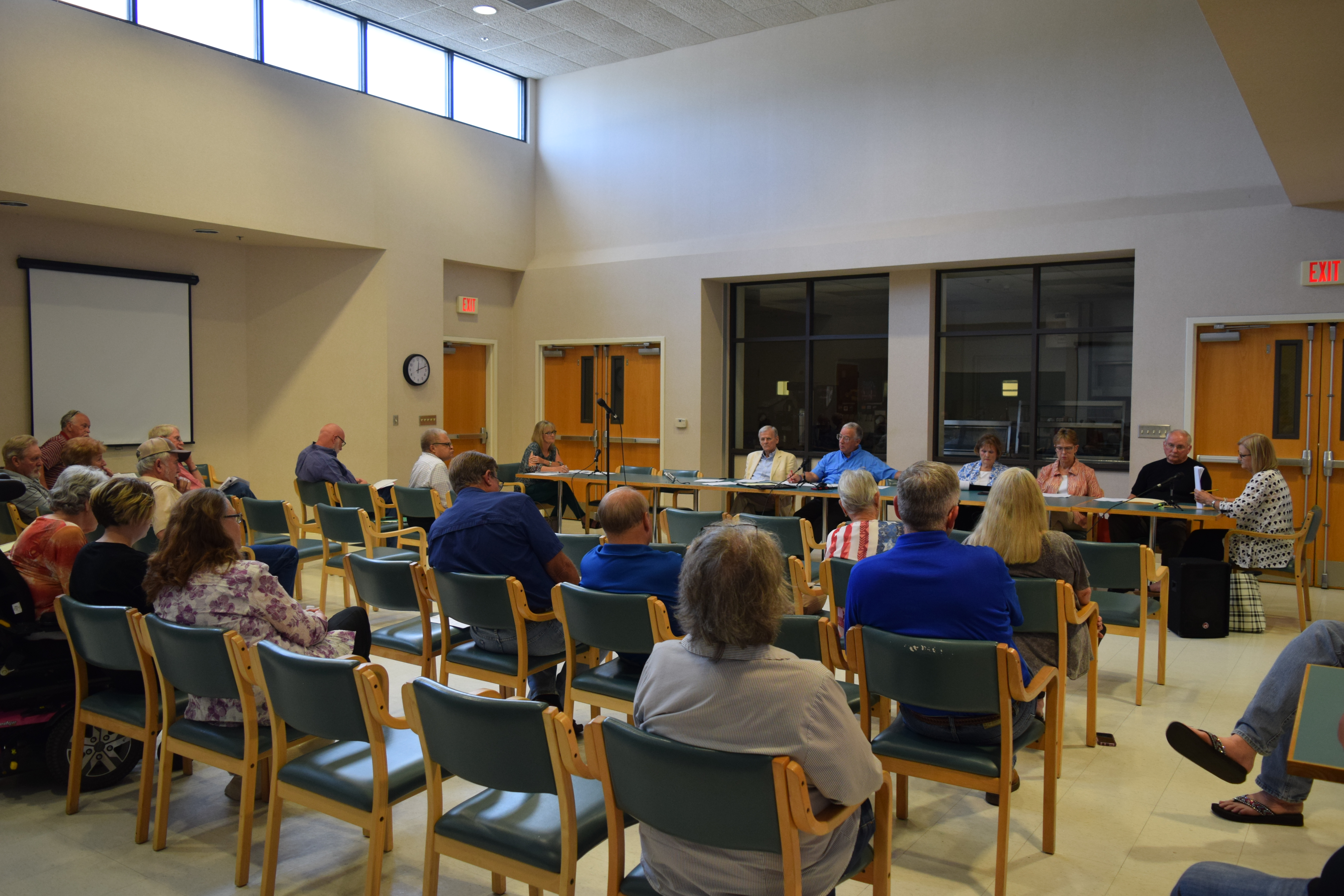 HCHD to Remove Name from Timberlands Accounts 
By Will Johnson
Messenger Reporter
HOUSTON COUNTY – During a regularly scheduled meeting of the Houston County Hospital District (HCHD) Board of Directors, held on Tuesday, June 19, the newest board members questioned several decisions made on behalf of the HCHD.
Once the initial agenda items had been covered, newly elected board member Dina Pipes requested to read a prepared statement to the board and those in the audience.
"(HCHD board member) Rhonda (Brown) and I have been studying and searching trying to find out as much as possible about the past decisions this board has made. The good decisions and the not so good. We want to learn from these decisions and keep making the good ones. We know the past is the past, but we must learn from and not make the same mistakes again, in order to move forward. And yes, the money has been spent. It is gone," Pipes said.
As she continued, Pipes said she and Brown had requested various public records from the HCHD but had not received all they had requested.
"The hospital does fall under the open records act. These records are not personnel or patient records. They are financial records, bank statements, checks, invoices, purchase orders, etc. We are trying to figure out how approximately $10 million was spent from May 2015 until October 2016. My question is, why is this so hard for us to get these records? Is there something we might find?" she asked.
Pipes added she wanted the board to be more transparent and believed many of the items discussed in prior executive sessions held by the HCHD board could have been discussed in open meetings.
"I want to go on record," Pipes expressed, "saying I am not against the hospital. I firmly believe we need a medical care facility in Houston County. Whether you call it an ER, satellite hospital, critical care hospital or stabilizing facility, but I don't think our community can support a full hospital as we have known in the past."
After explaining her reasons for voting against three agreements with Crockett Medical Center in a previous meeting, she began to wrap up her statement and appeared to ruffle a few feathers.
"Rhonda and I have only been on the board a month and – in my opinion – we know more about what has happened than the majority of you who have been on the board for years. I challenge everyone on this board to do your homework, keep up with what is going on, ask questions, read the documents and agreements or maybe you might want to consider getting off his board," she said.
Once Pipes concluded her statement, Brown requested to read a statement of her own. She echoed Pipes when she said it was an honor and a privilege to serve on the HCHD board and merely wanted what was best "… for the citizens of Houston County when it comes to health care."
"We have worked hard to get our message out and we made a promise to those who supported us – we would be diligent in the decisions we make when it comes to being good stewards of the hard-earned tax revenues that are collected for the HCHD each year. The HCHD Board has the important job of being the overseer of these tax dollars," Brown said.
Brown indicated she had requested records from the HCHD prior to taking her seat on the board because she wanted to know as much as she possibly could about the operations of the HCHD before making decisions regarding the HCHD.
"I received all records in a timely manner that (HCHD administrator) Mr. (Dick) Murchison had in his possession. On April 23, 2018, I made a request for additional information and was sent a letter from (former HCHD Board President) Mrs. (Deborah) Blackwell requesting clarification of my request," she read.
She said securing the additional records she had requested was taking longer than expected. Brown explained some records were in the possession of Blackwell, some were stored in the hospital and some were stored at area banks.
"The records stored at the hospital were delivered to Mr. Murchison's office," Brown continued. "I was initially told that Dr. Grier had spoken to three different attorneys and we would not be allowed to take any documents in the room with us. We could take a pad and pen. We also had to have an uninterested party oversee us as we looked through the boxes."
She said she had personally called the HCHD attorney – Robert Spurck – and was informed "… he had not had a conversation with Dr. Grier about this and he had no problem with me taking my documents in with me."
Brown said she had requested itemized invoices to reconcile against checks written to Community Hospital Corporation for "astronomical" amounts of money, but was only able to find three.
"There should have been at least thirteen itemized Invoices for this company. According to records I have, this company did consulting work for HCHD for at least five months (Beginning Dec. 2014) without a written agreement approved by the HCHD Board," Brown explained.
"You ask, 'why we are interested in the past?' " Brown asked.  "We have a lot of questions. We must understand what happened in the past so we can deal with the future.  Dina and I are on a mission for the Citizens of Houston County, as well, as for ourselves. We all want to know how the HCHD Board spent these astronomical amounts of money, in such a short time frame."
Brown said CHC had billed the HCHD a total of $425,287.06 over a span of three months. This was comprised consulting fees of $75,000 (3 x $25,000), while the remaining $350,287.06 was spent on salaries, travel, millage, airfare, hotel lodging, rental on vehicles, gas, dinning and other miscellaneous items.
"There are no detailed documents explaining these charges on the invoices. I understand this company is based in Plano, Texas. In my opinion, this is only the tip of the iceberg. While I serve on this board, we never want to see another company come in, pad their pockets then leave us bankrupt. What is the HCHD Policy for seeking outside legal advice? Are records kept of the attorney's opinions, assistance, emails and communications? Where are the HCHD policies and procedures manuals kept? I have not seen a manual. The Citizens of Houston County want more transparency and
higher accountability when it comes to spending the hard-earned tax dollars of the District," she concluded.
During a lengthy discussion on the costs related to open records requests made by Brown, she said all she was looking for was the facts.
HCHD Board President Dr. Bob Grier replied he had been on the board for roughly three and a half years and "… had never had a board member try and obfuscate the truth."
"The board members have answered questions openly and honestly. Records have been available. Questions asked at board meetings, public meetings and even on the street have been answered in a forthright and clear manner," he said.
Brown questioned who the three attorneys were who told Grier she could not take documents into the bank where HCHD records were stored.
Grier said he would like to place that question on the July agenda "… but I want to make it clear – while I have been on the board – no one has tried to withhold any documents from anyone."
"I'm not accusing anyone," Brown responded.
"I just want to make that clear," Grier said.
Following the exchange between Brown and Grier, the board retired into executive session. When they emerged from behind closed doors, Grier informed the audience a settlement with TXU Energy had been reached for $67,000.
"The initial bill was $150,000. We were able to get it down to $121,500 and negotiated a final payment that will settle the entire bill for $67,000," he said.
A motion was made seconded and unanimously approved.
The next matter addressed concerned accounts the HCHD was still listed on with Timberlands Healthcare.
"We have sent a demand letter to Timberlands/Little River Healthcare informing them the two accounts at Prosperity Bank – the lockbox account and the operational account – we will have our names taken off of those accounts and our identification numbers removed by the close of business next Thursday. They are fully aware of that and are in receipt of that information. We will be doing that as quickly as possible," Grier said.
In other matters brought before the HCHD Board:
The minutes of the May 15 and June 5 meetings were approved.
The HCHD financial report was approved as presented.
Board members Rhonda Brown, Kath Calvert and Dr. Bob Grier were appointed to the HCHD Finance Committee.
Board member Dina Pipes was requested to look into the logistics of setting up a website for the HCHD.
Will Johnson may be contacted via e-mail at wjohnson@messenger-news.com.