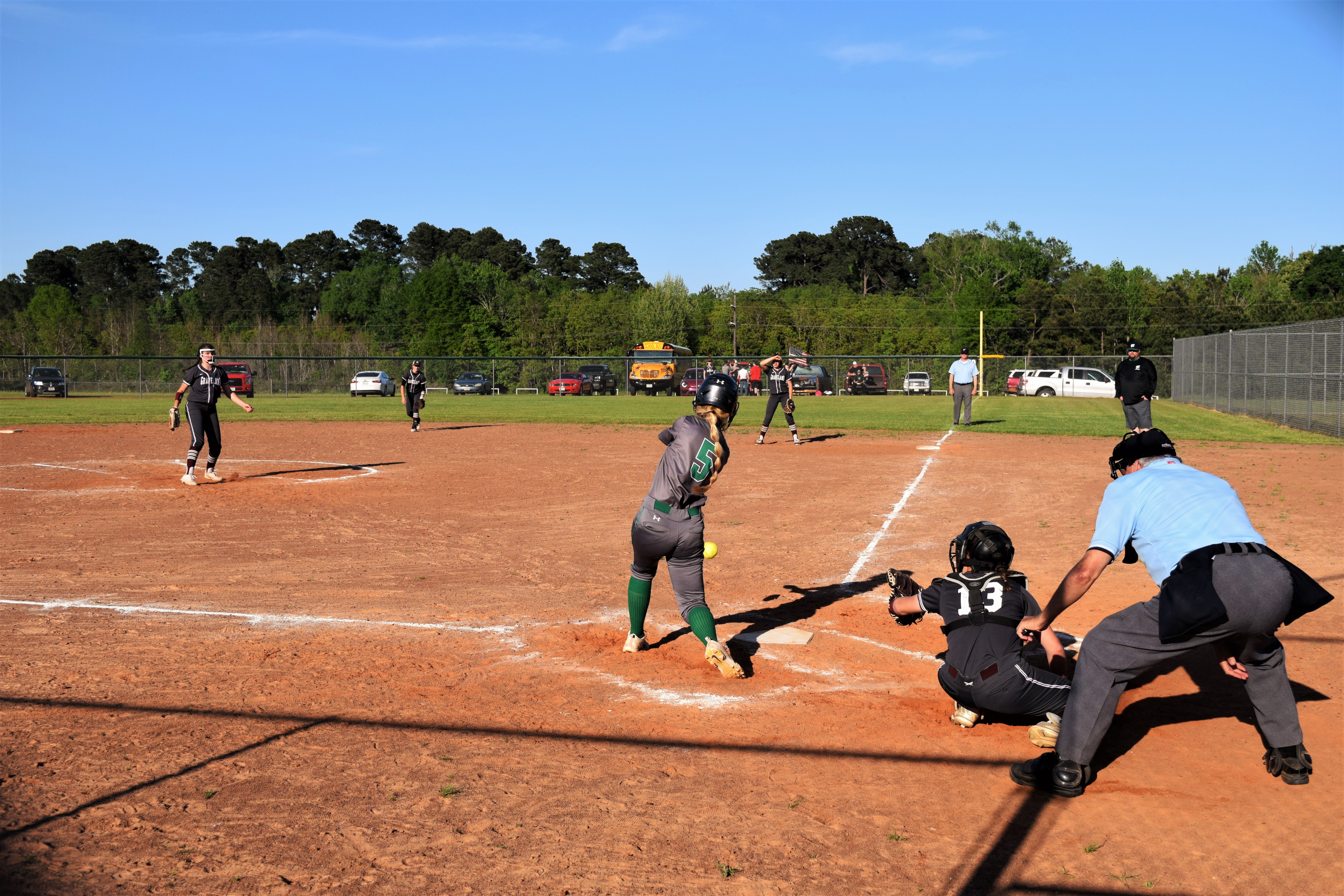 Grapeland Remains Unbeaten in District Play
By Will Johnson
Messenger Reporter
LATEXO – The Grapeland Sandiettes' district winning streak this year now stands at nine following their 10-0 win over the Latexo Lady Tigers on Tuesday, April 10.
The Sandiettes sparkled at the plate with 16 hits against Latexo's Gracie Zalesky – one of the area's better pitchers – and played solid in the field, with only two errors.
Cadie Belle Currie continued her domination from the pitcher's circle as she threw a two-hit shutout, did not walk a batter and registered 14 Ks in the game.
Grapeland started strong at the plate as Cierra Simon and Kiera DeCluette led off the game with back-to-back singles. After DeCluette's single moved Simon to third, she took advantage of her speed to swipe second base.
Cheney Boyd flew out to center, but Hannah Chipman connected off of Zalesky to drive in Simon from third and DeCluette from second. Chipman didn't stay at third very long as Cadie Currie followed in the order with a double of her own to plate Chipman and make the score 3-0.
After Madi McCombs singled, Zalesky regrouped to strike out KeKe Harris and Diamond Dunn to end the inning.
That brought Currie out to the pitcher's circle for the first of several short innings. She struck out both Bailey Ingle and Diana Maza, allowed Makayla Gunnels to reach on an error and then caught her on the base paths trying to advance to second base.
After a quiet second inning from both teams, the Sandiettes tacked on two more runs in the top of the third.
Boyd reached first on an error, stole second and then scored on a deep fly ball from Chipman. Currie was up next and hit her second double, in as many trips to the plate.  Christy Shepherd came in as a courtesy runner for Currie and scored when Harris doubled into left.
After Zalesky retired the next two hitters, Currie went back to work in the circle. She got Angeleah Benton to ground into a 4-3 force and then caught Madison Land, along with Ingle, swinging at third strikes.
Already ahead by a score of 5-0, the Sandiettes tacked on three more runs in the top of the fourth inning.
Simon led off the fourth and reached on an error. She stole second, advanced to third on a passed ball and scampered home on a DeCluette groundout.
Following a groundout from Cheney Boyd, Chipman reached second on a miscue in the outfield and scored when Currie collected her third double of the game. Shepherd came into run for Currie once agai
n and once again she scored when a teammate doubled her in.
While the first time belonged to Harris, this time it was McCombs who doubled her in and made the score 8-0.
Just as the Latexo offense started to show some life, the Sandiette defense snuffed out any hopes the Lady Tigers had of a comeback.
Currie struck out Maza to open the bottom of the fourth inning. An error allowed Gunnels to reach and then she took second on a Zalesky base hit. That was as close as Latexo would get to scoring, however.
The Grapeland ace coaxed a pop up from Raelyn Walker and then struck out Harli Brent to end the inning and send the game to the fifth.
Dunn led off the frame with a bunt single and then stole second. Haylee Reed was up next and followed with a bunt of her own. It appeared as if they might be stranded on the base paths after Zalesky popped up Simon and struck out DeCluette, but Boyd came through with a single to drive in Dunn, which made the score 9-0.
After Zalesky got Chipman to pop up to end the inning, Currie was back at it and worked another 1-2-3 inning. She forced Carmen Page to groundout, 3-4, and then struck out Benton, as well as Land, to end the inning.
A quiet sixth gave way to the seventh which saw the Sandies hit the 10-run plateau for the sixth consecutive time. Simon led off with a single and stole second. Following a DeCluette strikeout, Boyd came to the plate and slapped a triple over the heads of the outfielders to drive in Simon with the Sandiettes' 10th run.
Zalesky managed to get the last two outs without any further damage and then Currie finished off the Lady Tigers.
She struck out Zalesky swinging and caught Walker looking. After Brent laced a single up the middle, Currie end the game with a swinging strikeout of Page.
Will Johnson may be contacted via e-mail at wjohnson@messenger-news.com.