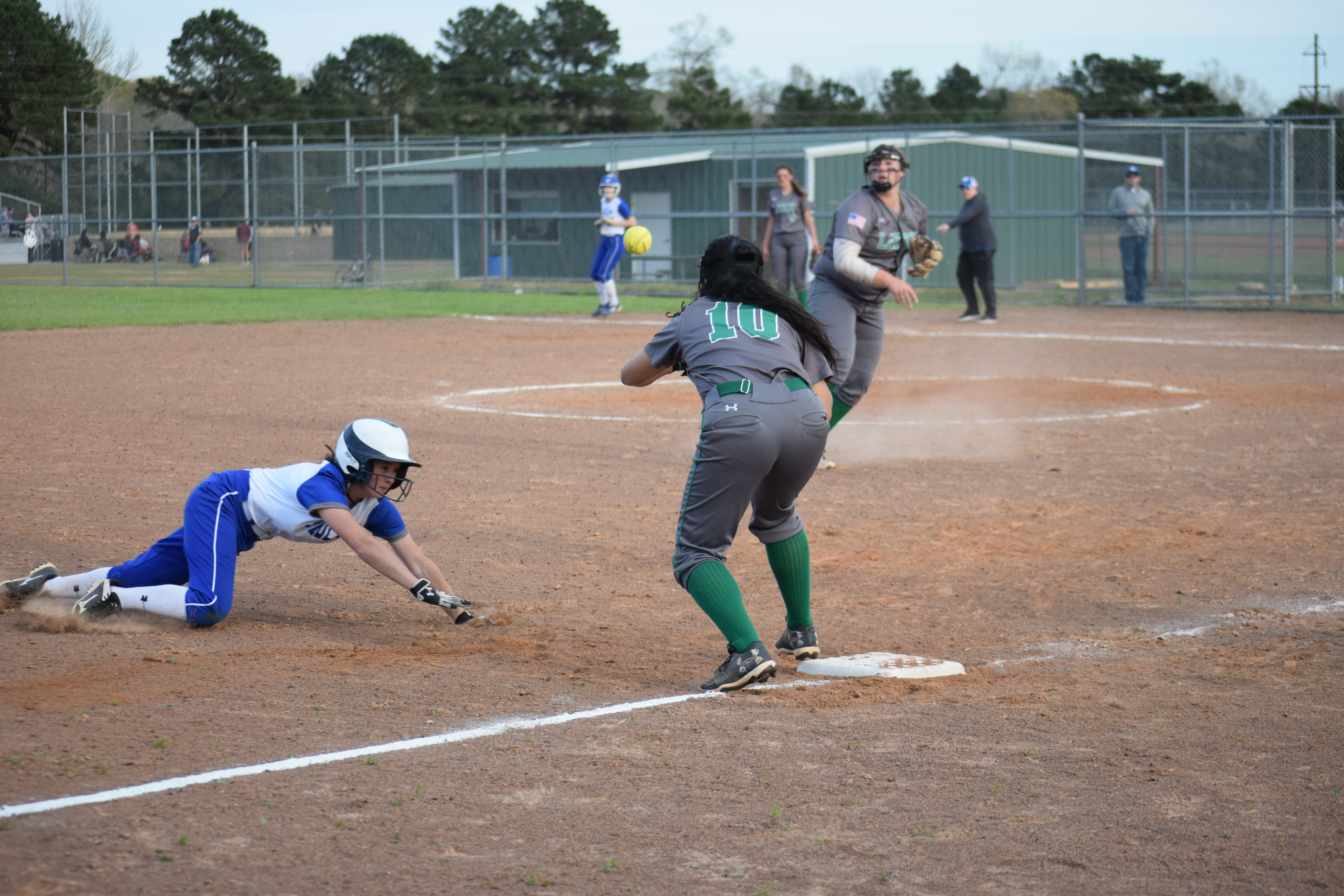 State Champs Down Latexo, 10-5
By Will Johnson
Messenger Reporter
LATEXO – The UIL, in its infinite wisdom, places Class A softball teams in Class AA districts until the playoffs begin.
Once the postseason kicks in, the Class A teams break off and compete solely against other Class A competitors.
As a result, the Slocum Lady Mustangs honed their skills in District 21-AA last year and finished second to the Grapeland Sandiettes for the district crown. When the playoffs rolled around, however, the Lady Mustangs hit the "beast mode" setting and powered their way to the Class A State Championship.
It can be argued the Lady Mustangs were able polish their skills at the plate because they faced possibly three of the best pitchers in Class AA in Grapeland's Cadie Belle Currie, Neches' Josey Sumpter and Latexo's Gracie Zalesky while sporting one of their own in Jalyn Fletcher.
On Tuesday, March 6, the Lady Mustangs began defense of their title and seemed ripe for the picking. Slocum had once again reached the State Semifinals in basketball and were still in the process of unpacking from their trip to San Antonio when district play in softball opened.
The Lady Mustangs had only one (uno, ein, un) day of practice as they took the field in Latexo to face Zalesky and a rejuvenated bunch of Lady Tigers.
Zalesky didn't have her best stuff to open the game as she gave up three runs before she recorded her first out. She issued a walk to Jalyn Fletcher, yielded back-to-back doubles to Courtney January and Jessi Ives and then gave up a triple to Taylor Clark.
After she struck out Briley Evers, Zalesky hung a pitch to Kara Cumby who laced it into right field to drive in Clark from third. Following Cumby's hit, Zalesky settled down and retired the next two batters she faced to end the inning and limit the damage to four runs.
The Lady Tigers struck back when they came to bat, however. State tournament MVP Jalyn Fletcher was roughed up for three runs when she entered the circle on a hit from Shelby Abshire, a walk to Makayla Gunnels, a hit batsman (Zalesky) and a double to Angeleah Benton.
With the score 4-3 after one, it looked like the game was going to turn into a slugfest. The Lady Mustangs tacked on another run in the top of the second after Fletcher reached on a bunt single, stole second and then came around to score on a Jessi Ives liner to right.
Latexo kept pace in their half of the second after Fletcher yielded back-to-back two-out walks to Diana Maza and Abshire. Maza came around to score when Gunnels drilled a shot into the gap for a double which made the score 5-4.
A quiet third gave way to a busy fourth for the Lady Mustangs as they tacked on two runs to extend their lead to 7-4. Ives did the damage with a double to right which plated both Laney Lasiter and Fletcher.
The score remained that way until the bottom of the fifth when Gunnels announced her return in a big way. After sitting out last season with an injury, Gunnels picked up where she left off as a sophomore.  She timed a 2-2 pitch from Fletcher to perfection and sent it sailing over the outfield fence for a solo HR.
Gunnels' blast made the score 7-5, but that was as close as the Lady Tigers would get as the Lady Mustangs plated three more runs in the top of the sixth and snuck out of Latexo with a 10-5 win.
Fletcher picked up the win with seven innings of work. She gave up six hits, five runs, recorded seven Ks, walked four and gave up one HR.
Zalesky took the loss in seven innings of work. She gave up 10 hits, yielded 10 runs, struck out seven and walked two.
Will Johnson may be reached via e-mail at wjohnson@messenger-news.com.