Lady Mustangs Headed to Regional Tournament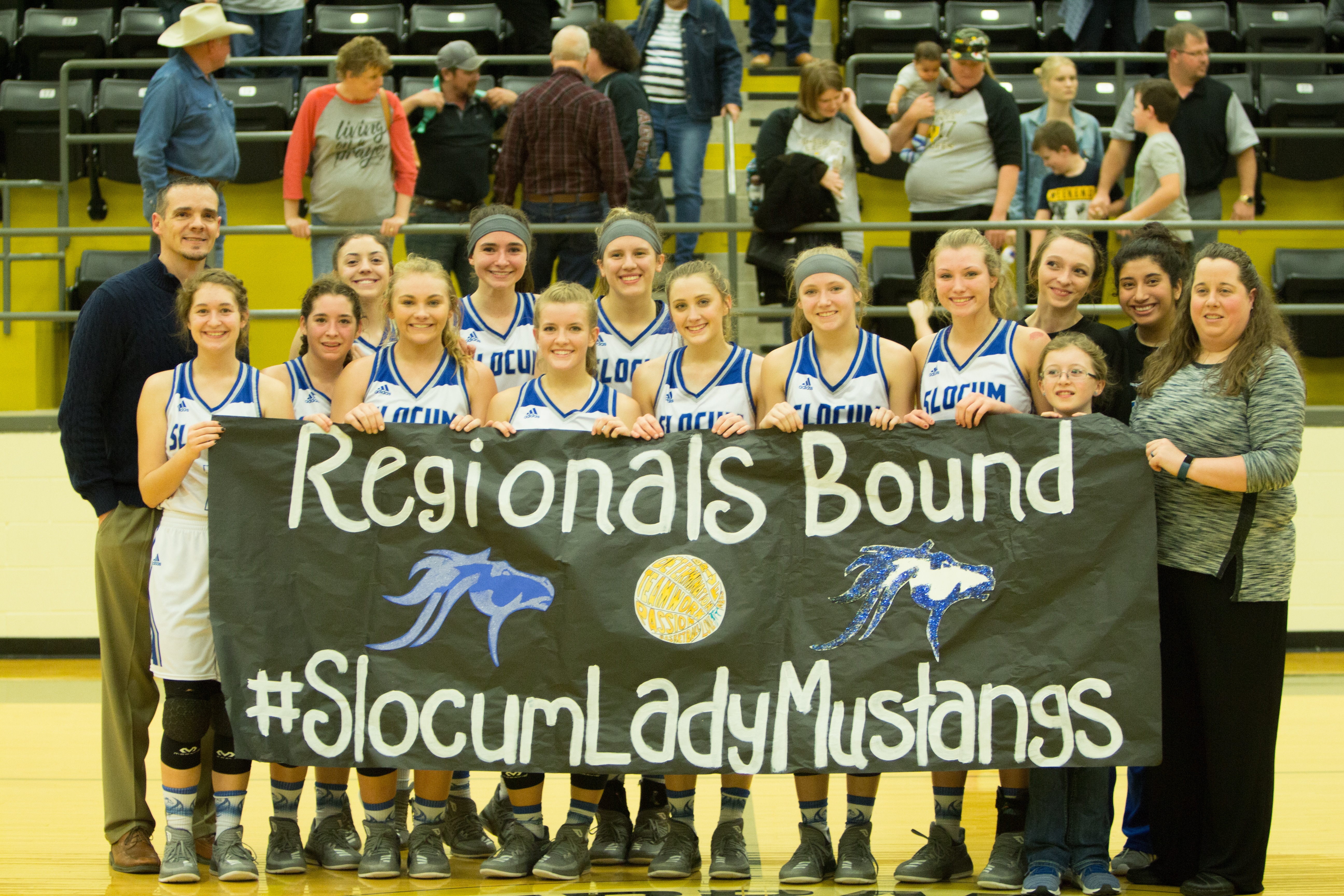 Slocum defeats Jonesboro, 69-46
By Will Johnson
Messenger Reporter
FAIRFIELD – It's been said by more than one person in basketball, if you live by the three – you die by the three. Such was the case on Monday night when the Slocum Lady Mustangs dropped 13 treys on the Jonesboro Lady Eagles enroute to a 69-46 win.
The Slocum three party began in the first quarter as Jessi Ives connected on a pair of long range shots for six points. Shelby Bowman added a pair of free throws to go along with a two from the field while both Taylor Clark and Gina Lively hit from behind the arc. Briley Evers added a two to close out the Lady Mustangs' first quarter scoring with Slocum doubling up Jonesboro, 18-9.
The Jonesboro points came from Ashby with five while Gilmore and Pimento added two apiece.
The Lady Mustangs took control of the game in the second quarter as they continued to rain down three-pointers. Clark and Ives both hit a three-ball as part of their seven points apiece. Jalyn Fletcher and Laney Lasiter got in on the act as they each hit from downtown while Bowman and Jaiden Wickersham both added two to give Slocum a 42-19 halftime lead.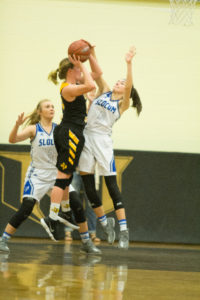 The Lady Eagles points came from Wilson with four while Ashby and Gilmore both had three.
The three point barrage from Slocum continued after the break as Bowman, Ives and Lively all hit from deep outside. Clark added a little icing with a two which brought the score to 53-30 after three periods of play.
Cable paced the Lady Eagles with four in the third. Isom had had three while both Ashby and Wilson had two.
As the fourth quarter got underway, Head Coach Dustin Bates spread the floor to burn some time off the clock. The threes, however, kept falling for the Lady Mustangs as both Ives and Bowman knocked down shots from long range. Ives three was part of her seven points in the quarter.
Fletcher, Lasiter and Wickersham all had two to close out the contest and give Slocum the 69-46 victory.
For the game, the Lady Eagles were led in scoring by Ashby with 15 and Gilmore with nine. Isom dropped in eight as both Cable and Wilson had six. Pimento rounded out the Jonesboro point production with two.
The Lady Mustangs were led in scoring by Jessi Ives with 23 points. Both Taylor Clark and Shelby Bowman dropped in 12, Gina Lively had eight and Jalyn Fletcher had five. Other scorers for Slocum were Jaiden Wickersham with four, Laney Lasiter with three and Briley Evers with two.
The Lady Mustangs next game will be in the Burger Center in Austin on Friday, Feb. 23. The opponent and time had not been determined as of press time.
PHOTOS BY STEPHANIE LIMERICK
Will Johnson may be contacted via e-mail at [email protected].