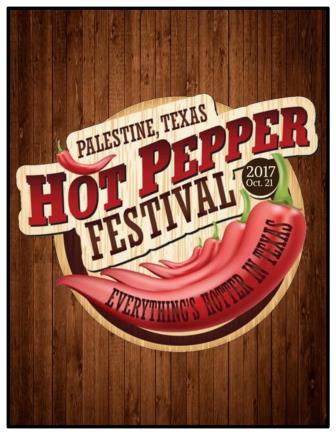 Event Scheduled for Saturday, Oct. 21
By Will Johnson
Messenger Reporter 
PALESTINE – AS the 2017 Peanut Festival winds down on Oct. 14, the Hot Pepper Festival in Palestine will fire up the very next weekend.
According to Nate Smith, the City of Palestine's Communications and Best Practices Officer, "On Oct. 21, the streets of downtown Palestine will fill as the Hot Pepper Festival – the city's largest event – kicks off with fun for the entire family. This year's Hot Pepper Festival will feature an exciting, family-friendly atmosphere that is free for the public, including parking, admission and tons of free interactive entertainment."
In a press release from the city of Palestine, Hot Pepper Festival Project Manager Danielle Shultz announced, "The Hot Pepper Festival Committee decided to keep the theme 'Everything's Hotter in Texas!' since it seems to fit the festival's title and everyone has fun with it.  A record number of vendors have already signed up to participate at this year's Hot Pepper Festival. With as many of the new and returning vendors we already have, Downtown Palestine is sure to have something for everyone!"
Smith added, "Some of the free interactive entertainment to look forward to include a zip line, rock wall, shooting gallery, mechanical bull riding, zorb ball racing, and a log slammer. Adding to the excitement, laser tag, as well as human foosball, will be free this year.  The annual Hot Pepper Eating Contest (sponsored by Brookshire's) always draws a diverse and fun crowd. This year, 100 contestants will be allowed to participate, and each will receive a medal. The first place winner will receive a $100 and the second place winner will receive $50."
This year's entertainment on the festival's main stage will also be free this year, according to Smith.
"Blindpursuit will open the show from 11 a.m. to 1 p.m., the Hot Pepper Eating Contest will be from 1p.m. – 2p.m., and the Wesley Pruitt Band will headline the show from 2 p.m. to 4 p.m.," he stated.
The Hot Pepper Festival Committee would like to thank this year's sponsors for making the 2017 Hot Pepper Festival a success: Palestine Economic Development Corporation, Citizens National Bank, Sonic, TLC Media, Palestine Air & Heat, Sanderson Farms, Metro PCS, Island Tans, Red's 24/7, Shelton Gin, Whitaker & Whitaker, Brookshire's, Palestine Sign Company and the City of Palestine, Smith remarked in the press release.
The Hot Pepper Festival will begin with the annual parade, starting at 10 a.m. The parade will embark from the Anderson County Courthouse, travel down Avenue A and then make a right on Main Street. The parade will then continue right onto Queen Street and return to the courthouse, via Lacy Street.
Applications for the Hot Pepper Festival Parade can be found at the City of Palestine's Visitor Center, 825 W. Spring St., or online at cityofpalestinetx.com on the Hot Pepper Festival page. Completed applications can be dropped off at the Palestine Visitor Center, or emailed to Diane Davis, the Parade Coordinator, tripled_2001@hotmail.com.
First, second and third place Hot Pepper Festival Parade trophies will be given in four categories: cars, horses, floats and bands. The overall winner will receive $300. For additional information or to become a vendor for this year's Hot Pepper Festival, call Danielle Shultz at 903-731-8437.
Will Johnson may be contacted via e-mail at wjohnson@messenger-news.com.