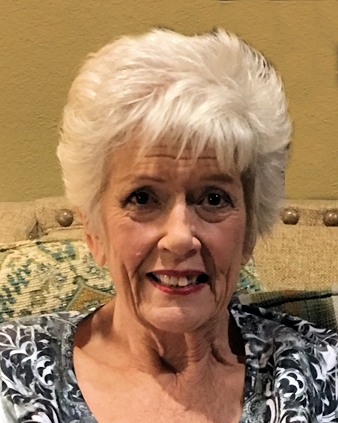 Rosalie Vera Grant went to see her Heavenly Father the morning of Sept. 21, 2017. She was born on February 5, 1942 to Frank and Vera Spitzenberger and was the youngest of four and their only daughter. Although she recently attended the Cowboy Church in Crockett, Texas, she was baptized in the Lutheran faith on Oct. 30, 1949 and confirmed on Feb. 5, 1967.
Rosalie grew up in the Spring Branch area of Houston where she made many lifelong friends who were like her family. She was previously married to Bill Nabors, Sr. and was the proud mother of son, Billy and daughter, Linda. She married Marel J. Grant in 1995 and they lived in Mauriceville, Texas; Southfork, CO and finally in Crockett, Texas. She cared for him in their home until she was no longer able.
Rosalie loved horses, was a wonderful cook, and especially enjoyed being Grandma Ossie to her grandchildren and great grandchildren. She also loved and took great comfort from the friends she met at her weekly Cancer Support Group meetings. Rosalie recently moved to Enchanted Pines Assisted Living and they cared for her as if she was part of their family. We will never forget the many people in Crockett who looked after and cared for our mom these past years. Although she recently suffered with many health issues, she never gave up hope that things would be better tomorrow. She was a living example of staying strong and to just keep going.
As only the Lord could plan, Rosalie and Marel went to heaven on the same day within hours apart. She is survived by son, Billy Nabors and wife, Christina; daughter, Linda Pittsford and husband, Gordon; and granddaughters, Sally Murphy and husband, Brent; Karen Nabors and wife, Ashley Castro; Natalie Hudgens and husband, Brett; and Halie Beckham and husband, Brady; great-grandchildren, Lindy Murphy, Elouise Beckham, Charlotte Beckham, Miles Murphy and Baby Hudgens due in January 2018. Rosalie is also survived by many extended family members, in-laws, and nieces and nephews.
A joint visitation for Rosalie and Marel will be held at the Callaway-Allee Funeral home in Crockett on Wednesday, September 27, 2017 from 10 a.m. to noon. Funeral services for Rosalie will be held in Houston at the Woodlawn Funeral Home on Thursday, Sept. 28, 2017. The family will receive friends at 9:30 a.m., with the service starting at 10:30 a.m. Interment will immediately follow at Woodlawn Garden of Memories cemetery.
In lieu of flowers, you may consider a donation towards the Cancer Support Group of Houston County through Pioneer Bank in Crockett or the American Cancer Society.  Online condolences may be made at www.callawayallee.com
Arrangements are under the direction of Callaway-Allee Funeral Home.