Latexo ISD Wins Big in UIL Math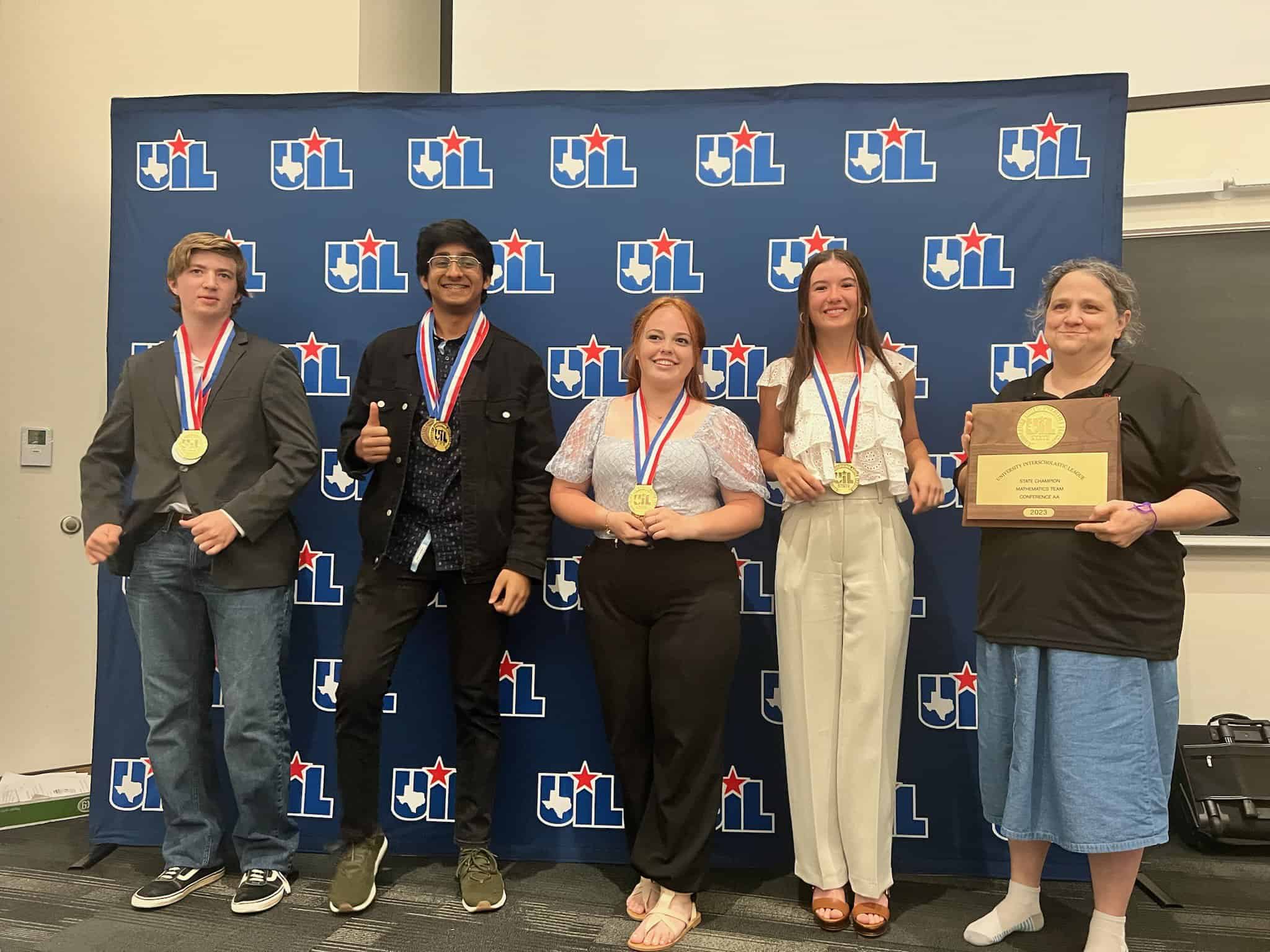 By Natalie Nicol
Messenger Correspondent
Pictured above, UIL Math State Champions: Carter Tucker, Mohammed Asad, Brandie Jackson, Natalie Nicol and Coach Audrey Cravens.
AUSTIN  — Coach Audrey Cravens, the coach of the Latexo High School Math and Calculator teams,  has always been very proud of her math team's accomplishments. 
It is no small feat to win a decade of math championships, but Mrs. Cravens wanted more (and if you know her, this is always the case).
This year, Mrs. Cravens was determined for her team to not only win their 11th consecutive math state championship, but to embark on a new legacy and win a calculator state championship, and she did just that.
The Math Team easily secured their 11th victory with a team score of 662, which was a whopping 218 points above the competition, Woodsboro.
Individual awards include Carter Tucker- Second Place with a score of 294, Mohammed Asad- Third Place with a score of 206, and Brandie Jackson- Fifth Place with a score of 162, along with team member Natalie Nicol. This team has a very promising future due to the fact that they are only losing one senior, Brandie Jackson, and next year will hopefully be able to secure the 12th year in a row.
The Calculator Team dethroned the reigning State Calculator champions, Sabine Pass, in a very tight race with a team score of 794 compared to the Sabine Pass 755.
Individual awards include Carter Tucker-Third Place with a score of 285 with a tie-breaker score of 133, Mohammed Asad- Fourth Place also with a score of 285 with a tie-breaker score of 128, along with team members Kate Walker and Brandie Jackson.
This victory was particularly sweet for Mrs. Cravens and the Calculator team because they have been working tirelessly to make this happen working long hours in order to raise their scores in order to be competitive at the State level.
This team went from making it to State for the first time ever – to winning it all only a year later, and the best part is, this team is also only losing one senior, Brandie Jackson, so the future is certainly bright for this young team.
Coming from a member of the Math Team, not a lot of people really understand the amount of time and effort it truly takes to be successful on this test. The test consists of Algebra 1, Geometry, Algebra 2, PreCalculus, Calculus AB, and advanced Statistics concepts; obviously, it is by no means an easy test. Mrs. Cravens, however, has perfected the way she teaches her students to create the dynasty of championships that everyone sees today.
We practice, a lot, she has even picked up the nickname "Cray Cray" or "Crazy Cravens" among her peers and fellow coaches due to her determination, but her ability to take a student and bring out the best in them is unmatched to any other program.
Although Mrs. Cravens works us really hard, and we may claim that we strongly dislike her at times… She is by far the best teacher and best person I have ever encountered and she continues to leave a strong impact on my life and the lives of many others due to her competitive spirit and compassion. No one is more deserving of these victories than Mrs. Cravens, this one, and the many, many more to come.