Lions Club Rodeo Heads into Sunset Until Next Year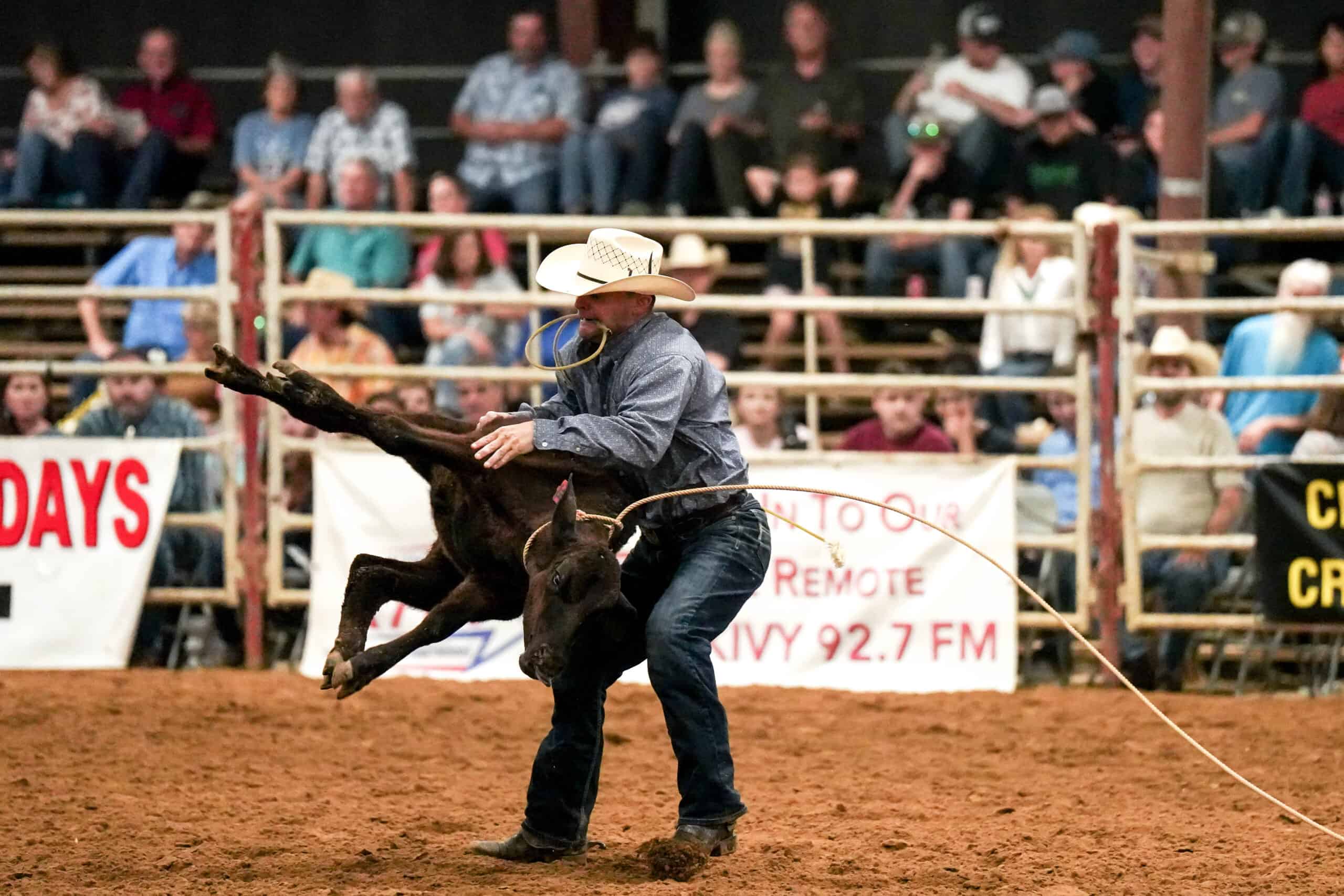 By Greg Ritchie
Messenger Reporter
CROCKETT – The 61st annual Lions Club rodeo wrapped up its activities Saturday, May 13 with the last of the events, crowning of a new queen, many muttons busted and all the souvenirs and goodies consumed and packed away for next time.
As usual, turnout was high as locals packed the stands to see neighbors and some of the rodeo action. First on the agenda Saturday night was the coronation of a new queen – the first crowning since 2019 and the start of the pandemic.
Reigning queen Melanie Jenkins was on hand to pass the torch and the crown to the next generation, one of the six candidates for the honor: Kami LeBlanc, Joey Lewis, Gracie Ann Mason, Madeline Crawford, Caroline Hackler and Codee Bierdrycki. The six rode out at full speed as the crowd roared, the girls all sparkling in their rodeo gear and makeup. One girl lost her hat as her horse flew by – no matter, she never lost her stride and her hat was delivered to her dusty, but otherwise unharmed.
Rodeo Queen Coordinator Heather Bishop assisted The Messenger in meeting and speaking with the candidates before the show and being on hand to grab a picture of them on the big day. You can see our video interview with the candidates in the clip below, all of which proved themselves to be smart, determined and funny.
So it goes, everyone competed and did their best but there can only be one queen. And the winners were: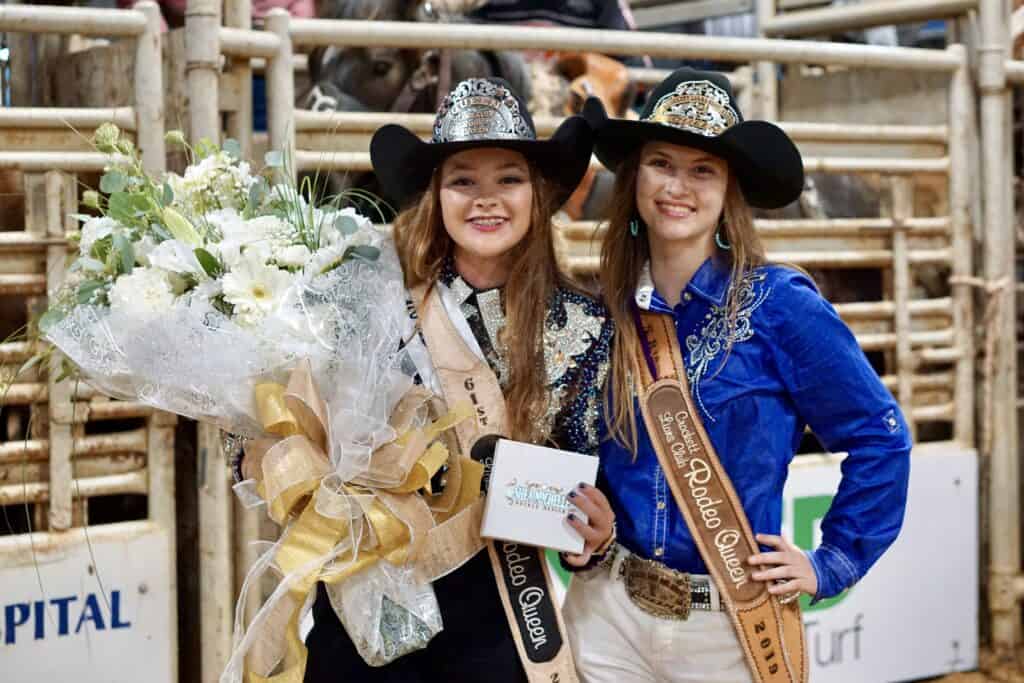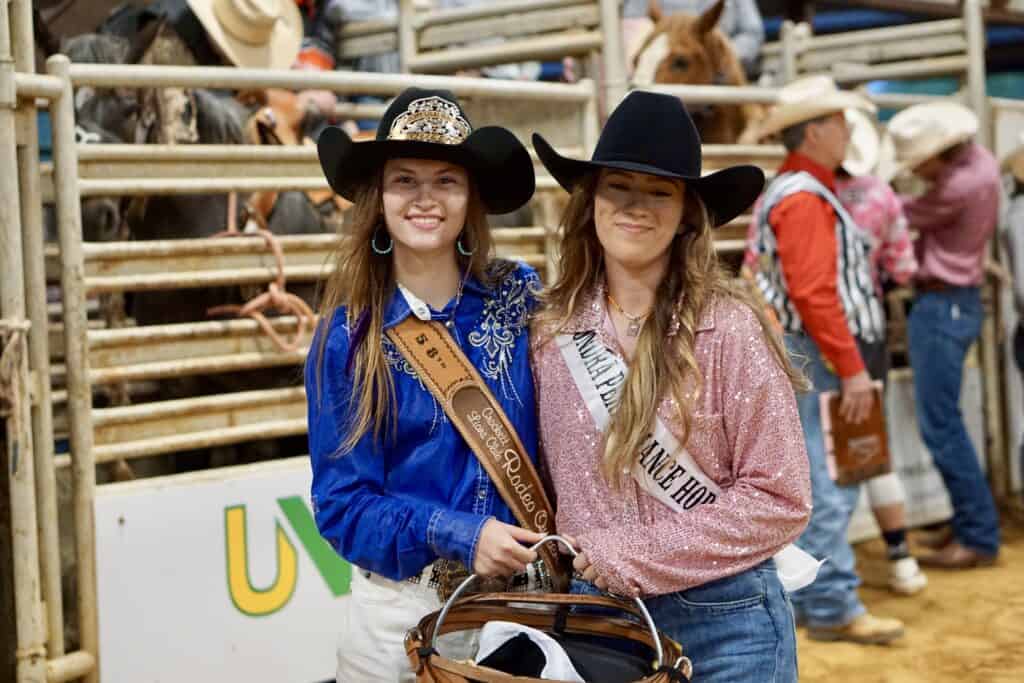 Most Tickets Sold – Gracie Ann Mason
Most Congeniality – Gracie Ann Mason
Horsemanship – Kami LeBlanc
2nd Runner-Up – Codee Biedrzycki
1st Runner-Up – Kami LeBlanc
61st Annual Rodeo Queen – Gracie Ann Mason
The Messenger can report Ms. Mason was helping to clean up and load tables and chairs after the Davy Crockett Festival in the park. In spite of the rain and humidity, Mason and her brothers chipped in and did some real grunt work before the young lady got into her soon-to-be rodeo queen duds and won the big honor. Kudos to a hard-working and determined young lady.
The lines of parents and youngsters filled the aisle to be part of the mutton bustin' as is traditional every year, with some of the kids surprising the crowd with their tight grip and tolerance to what can seem like some painful falls.
The events themselves did not disappoint, with winners from all parts of Texas and places far beyond that. The results from the rodeo were as follows:
BAREBACK RIDING
L J Higgins – Australia
Brayze B Schill – West Columbia, TX
Kash Martin – Lufkin, TX
Mason Stuller – Veneta, OR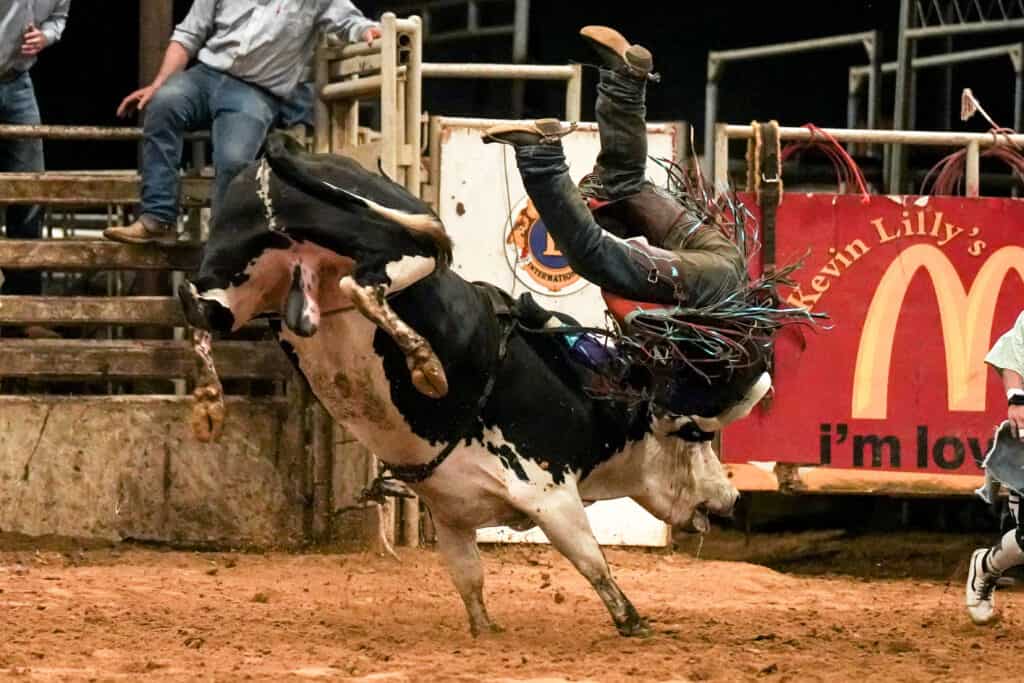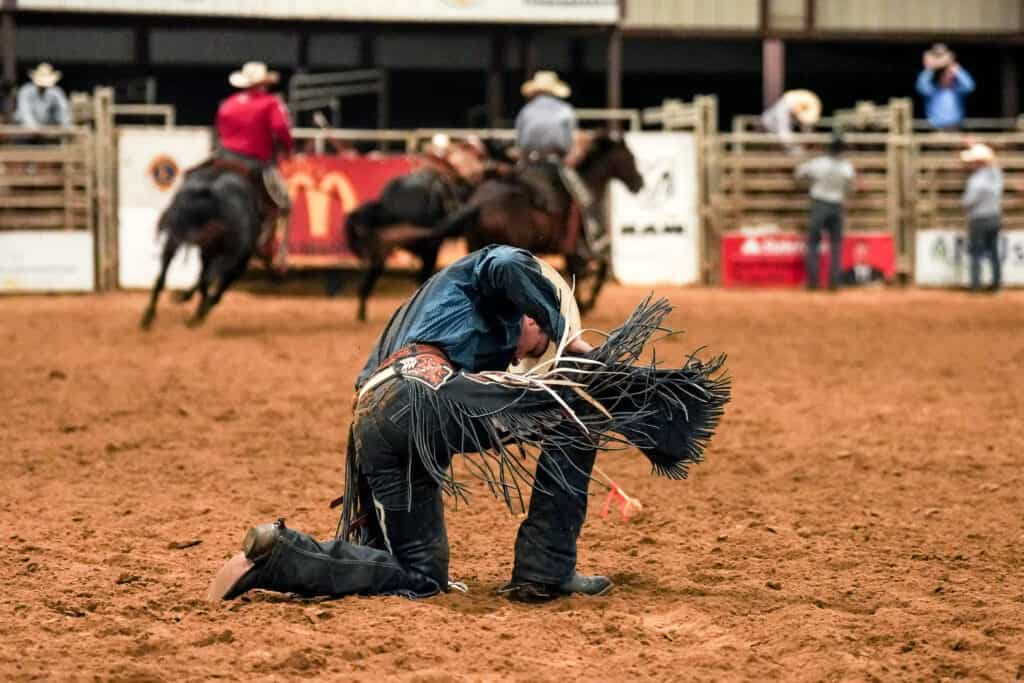 SADDLE BRONC RIDING
1. Jacobs Crawley – Stephenville, TX
2. Dean Wadsworth – Buffalo Gap, TX
3. Sterling Crawley – Stephenville, TX
4. Lavern D Borntreger – Elsmere. NE
4. Darcy Radel – Injune, AU
4. Cale Newman – Hico, TX
BULL RIDING
1. Tristin Parker – Winnie, TX
2. Lex Oakley – Dekalb, TX
3. Colton Kelly – Rhome, TX
STEER WRESTLING
1. Don Payne – Stephenville, TX
2. Cade Staton – Bastrop, TX
3-4. Wyatt Fields – Silsbee, TX
3-4. J.D. Struness – Milan, MN
5. Cole Walker – Springtown, TX
6. Kalane Anders –
TIE DOWN ROPING
1-2 Jayce Johnson – Bellville, TX
1-2 Benny Mosley – Bedias, TX
3. Trent Turner – Teaque. TX
4. Gio Piloto – Tolar, TX
TEAM ROPING
1. Leander Williams – Thorndale, TX
Justin Elms – Thorndale, TX
2. Chace Thompson – Knox City, TX
Chad Williams – Stephenville, TX
3. Justin Lovell – Grapeland, TX
Montrel D Gilder – Dallas, TX
COUNTY TEAM ROPING
1. Colby Davenport/Travis Yates
2. Matt Benton/Carson Ray
3. Brandon Mason/Cole Hackler
BARREL RACE
1. Kevla Costa – Tolar, TX
2. Casey Mathis – Queen Creek. AZ
3. Victoria Procter – Ledbetter, TX
4. Bryana Lehrmann – Lexington. TX
5. Mitzi Duke – McDade, TX
6. Abby Pursifull – Arthur City, TX
7. Kristin Shoppa – Decatur, TX
8. Bayleigh Choate – Fort Worth, TX
9. Preslie Reid – San Angelo, TX
10. Shaylee Hindman – Weatherford. TX
Greg Ritchie can be reached at [email protected]