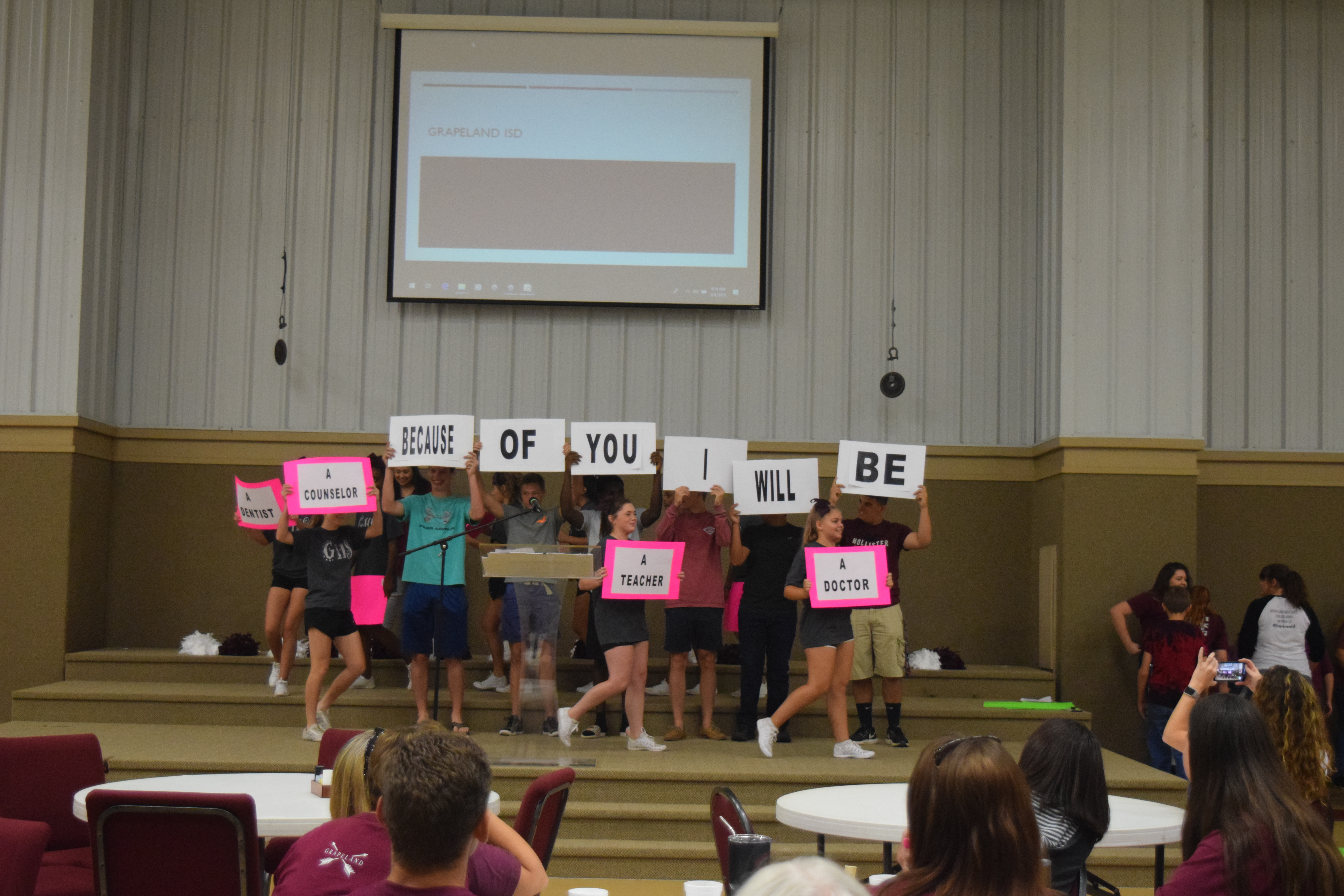 By Will Johnson
Messenger Reporter
 GRAPELAND – How do you fire up the faculty and staff of Grapeland Independent School District for the 2018-2019 school year? You hand GISD Superintendent Don Jackson a microphone and tell him to sing.
Grapeland ISD employees gathered together at the First Baptist Church in Grapeland on Thursday, Aug. 9 for a convocation in preparation for the upcoming school year and were treated to a fabulous breakfast, door prizes and some very inspirational words.
After showing off his C&W song skills with "The Arrow" by Aaron Watson, Jackson pulled out his pop and rap repertoire with his rendition of Carrie Underwood and Ludacris' song "The Champion."
The songs had the GISD crowd going wild but Jackson brought them back to earth with a sobering self- assessment about leadership.
He said he was in Fort Worth when he heard a woman utter the phrase, "If you're going to lead, lead."
"You have to lead without worrying about if people like you. You have to lead without worrying about being popular. You have to lead, regardless about of people might say about you," he said.
"What we do at Grapeland ISD has to be what's best for everybody," Jackson said.
As he continued he stressed how the district's focus need to be on academics rather than athletics because "… you have to get your education. One you will have a wife or husband and some children. You will have to pay the bills. You will want a certain car and you are going to have to be prepared. You need to be able to wake up every day and go to a job that you love."
He explained education allowed you to be able to choose that job and not be forced into a job you do not like.
Prior to the superintendent's message, several motivational speeches were given and the staff and faculty of GISD was introduced.
Athletic teams, band students and cheerleaders were also introduced.
Will Johnson may be contacted via e-mail at wjohnson@messenger-news.com.