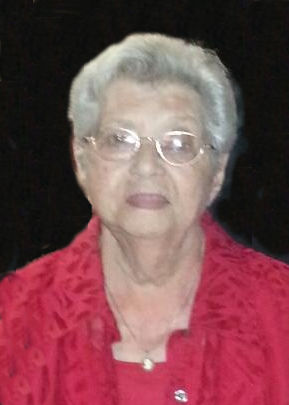 June Rose Smith Hughes, age 84, of Crockett passed away Tuesday, December 26, 2017 in Tyler.
She was born June 4, 1933 in Kings Lynn Norfolk, England to parents, Fred and Daisy Smith.
She is survived by her children, Danny Hughes of Crockett, Kimberley Sparkman and husband, Kelly of Slocum, and Donna Mouton and husband, Scott of Palestine; grandchildren, Twilia Howry and husband, Eric of New Mexico, Ashley Duke and husband, Cody of Groveton, Heather Springer and husband, Bart of Elkhart, Tye Sparkman and wife, Julie of Slocum, Orrin Sparkman and fiancé, Sage Simpson of Arizona, Josh Jordan and wife, Heather of DeBerry, and Jamie Wasicek of Houston; great-grandchildren, Ethan, Ian, Marty, Mason, Kaden , Gracie, Kylie, Jayci, Laikyn, Ray, Faith, Diendrae, Semaj, Jordan, Dustin, Seth, Alyssa, Justin, and Landon; great-great-grandson, Jason; sister, Sylvia Short of England; special friends, the Lognion Family; numerous nieces, nephews and other relatives.
She was preceded in death by her husband, Don Hughes; daughter, Lynn Wasicek; sons-in-law, Dale Wasicek and John Jordan; sisters, Ivey Smith and Brenda Benefer; and brothers, Bernard Smith and Fred Smith.
Graveside services for June Rose Smith Hughes were held Saturday, December 30, 2017 at 1 p.m. in the Wesley Chapel Cemetery with Bro. Billy Martin officiating. The family received friends Friday, December 29, 2017 from 6 to 8  p.m. at the Callaway-Allee Funeral Home.  In lieu of flowers, memorial contributions may be made to: Shriners Hospitals, 2900 Rocky Point Drive, Tampa FL 33607.  Online condolences may be made at www.callawayallee.com