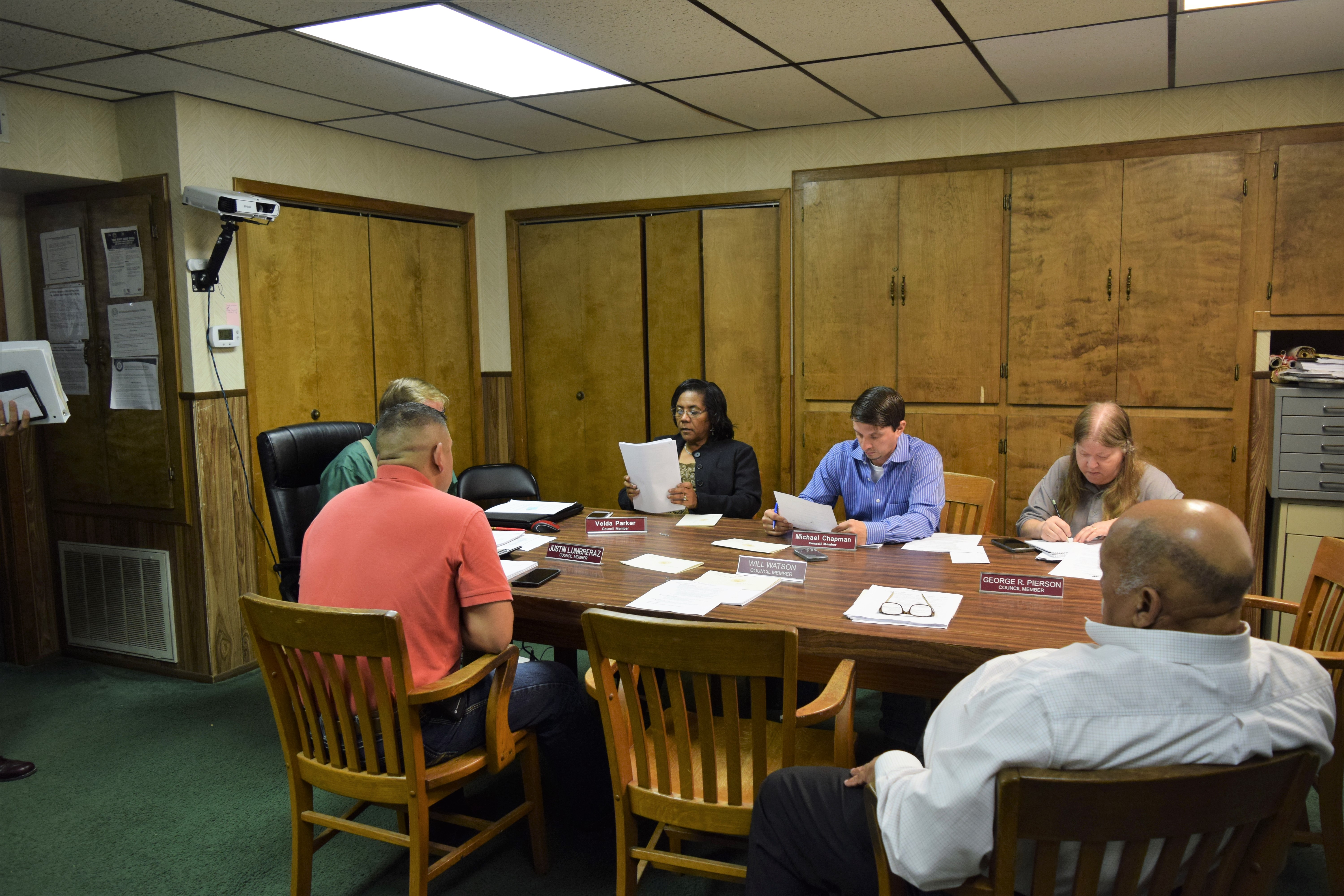 By Will Johnson
Messenger Reporter
 GRAPELAND – The Grapeland City Council received a grim report on the city's infrastructure woes during a meeting of the council held on Tuesday, Nov. 14.
"Our situation as so amply known is the status of our infrastructure is critical. It is at a critical juncture and its impact and how we are going to move forward is what we are trying to accomplish," Grapeland Mayor Balis Dailey said.
The mayor said issues with the water and wastewater were created in large part due to the failing infrastructure.
"We need to address them now. If we cannot fix them within one year, it will take a while to get them fixed. Every expenditure that we have – we need to make sure it is coordinated with a long range plan so it will not be a waste of money," he said.
The problems, Dailey explained, started decades ago and could be blamed on a lack of funding as well as mandatory regulations imposed by the state.
"This is our assessment, done with the help of engineers, and the assessment is that our asset conditions are extremely poor. We have a sewer system that was designed never to be maintained. We have a large percentage of that (sewer system) in a failure mode. We get by on a day-to-day basis on the grace of God," Dailey said.
As he continued, Dailey said he expected the Texas Commission on Environmental Quality to begin to really concentrate on violations in smaller cities in the years to come.
One of the areas Dailey said the city was looking into as a way of saving money was in the reduction of energy usage through a program previously presented to the council by Johnson Controls.
"What is the common solution?" the mayor asked. "Do more with less and reduce services. The top four issues with all small cities are: infrastructure; budget; energy; and environmental. We need to be proactive in our approach, process evaluation and retrofit opportunities."
In other matters brought before the council:
Consent Agenda items were approved by the council.
The Municipal Court collected a total of $4,386.80 comprised of $2,414 in city revenue, $1,755 in state revenue and $217.20 in delinquent fees. There were 58 citations written during the month of October.
Grapeland Interim Police Chief Ronnie Howell reported his department was dispatched to a total of 77 calls, made three arrests, issued 58 citations and 32 warnings in October. He also provided the racial profiling report for the month.
Grapeland City Superintendent David Malone reported the city used 6,717,000 gallons of water from the municipality's water wells. There were 5,402,000 gallons of water sold during the month of October and 2,780,000 gallons of wastewater were treated, for a daily average of 85,000 gallons.
Houston County Fire Marshal and Grapeland Fire Chief Roger Dickey said the fire department responded to a total of 19 fire alarms for the month of October which brought the year-to-date total to 122. He added there were 21 EMS calls for the month which brought the year-to-date total to 190.
The city agreed to provide free utilities to the Grapeland Public Library.
Will Johnson may be contacted via e-mail at wjohnson@messenger-news.com.