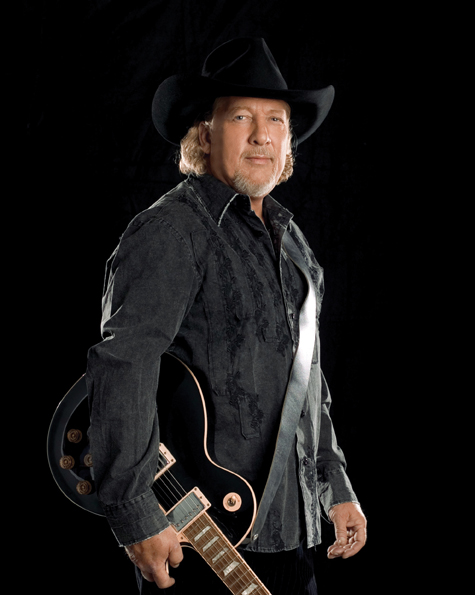 By Cheril Vernon
Messenger Copy Editor
CROCKETT – With his traditional country music sound and distinct, one-of-a-kind "twangy" voice, country music legend John Anderson is best known for his 1983 No. 1 chart topper "Swingin'," which he co-wrote.
Other hits on Anderson's set list include "Straight Tequila Night," "Seminole Wind," "I'm Just an Old Chunk of Coal (But I"m Gonna Be a Diamond Someday), "Money in the Bank" and more.
Overall, Anderson has released 23 albums and more than 60 songs (20 reaching the Top 10) and has won awards ranging from the Country Music Associations' Horizon Award, Single of the Year (for "Swingin'") and the Academy of Country Music's Career Achievement Award. In 2014, he was inducted into the Nashville Songwriters Hall of Fame.
As part of the Piney Woods Fine Arts Association's 2016-17 season, the award-winning singer and songwriter will present an acoustic concert at 7:30 p.m. Saturday, March 11 at the Crockett Civic Center.
"Throughout the years I've had a wonderful fan base and I love to reach out to the fans," Anderson, 62, told the Messenger during a phone interview from his home in Smithville, Tenn. Wednesday. "This show will be a little bit special because it's an acoustic presentation. It will be just me and my friend, Glenn Rieuf. An acoustic show really gives it a different feel."
While many of the songs Anderson will perform during the show will be familiar to his fans, he also will be playing songs from his latest record, "Goldmine." Anderson co-wrote 12 of the album's 13 tracks.
"We are proud of 'Gold Mine.' It puts us back where the fans can see we are writing new music and playing around the country," Anderson said.
The only track that Anderson didn't have a part in writing has its own special story, as the song "Magic Mama" was written by the late country music icon Merle Haggard specifically for Anderson.
"It was written especially for me. Merle called me when he was in the hospital. He said I'm writing this song and the more I write it, the more it sounds like you. He told me he was gonna go ahead and finish it and he would send it to me," Anderson said. "I'm very blessed to have a Merle Haggard song that is all my own."
In fact, out of all of his songs, Anderson said that his little granddaughter's favorite song is Haggard's "Magic Mama."
Anderson collaborated on songwriting with country music artist Josh Turner for his track "I Work A Lot Better."
"Josh Turner is one of my favorite of the newer country singers, even though he's not new exactly. He's been around awhile now," Anderson said.
His track "Don't Forget to Thank the Lord" was co-written by John Rich of the country-music duo Big & Rich.
Anderson also has a tribute to his fans on the track "You All Are Beautiful."
Another thing makes Anderson's newest album "Goldmine" unique is that it was independently produced.
"The difference is wonderful. I'm in 100 percent creative control. If I like that particular song or cut, we will use it," Anderson said.
Back in the 1980s and 1990s, record label executives sometimes tried to push Anderson away from using certain songs, even two songs that went to the top of the charts, such as "Swingin'" and "Seminole Wind."
"They weren't preferred by the powers at be at the time. I really had to fight to get them on the record – that's the truth," Anderson recalled. "But it's funny that you will see a lot of those same people in pictures with me with gold and platinum awards with smiles on their faces. If I took my licks for anything, it would be for fighting for certain things. If I didn't, I would never would have had a style."
But Anderson is happy with the path he has taken.
"We've been blessed to choose as well as write some good songs through the years," Anderson said.
Referring specifically to his biggest hit, "Swingin'," Anderson said it's amazing how the song is still well-known today.
"It was a really huge record and is still significant 35 years later," said Anderson, who was in his 20's when his career began to skyrocket.
Anderson said there's still nothing like performing on stage.
"I've always loved performing. I'm not a dancer. I don't tell any jokes, but I love singing," Anderson said.
Raised in Apopka, Fla., Anderson moved to Nashville in 1972, working construction by day and playing at honky-tonks at night. He even worked as a roofer on the Grand Ole Opry House. He signed with Warner Bros. In 1977. His first major hit was with Billy Jo Shaver's "I'm Just an Old Chunk of Coal (But I'm Gonna Be a Diamond Someday)." His next hit "Swingin'" exploded to No. 1 in 1983 after the release of his fourth album "Wild and Blue" album in 1982.
In the 1990s, Anderson released "Seminole Wind" on BNA, producing hit singles including "Straight Tequila Night," "Seminole Wind," "When It Comes to You" and "Money in the Bank."
Anderson has continued to release even more albums and songs throughout the years.
Tickets for Anderson's PWFAA concert on March 11 in Crockett range in price from $32, $37 and $42. Tickets are available for purchase by visiting www.pwfaa.org or by calling the PWFAA box office from 9 a.m. to 1 p.m. Monday through Friday at 936-544-4276.
The Crockett Civic Center is located at 1100 Edmiston Dr. in Crockett.