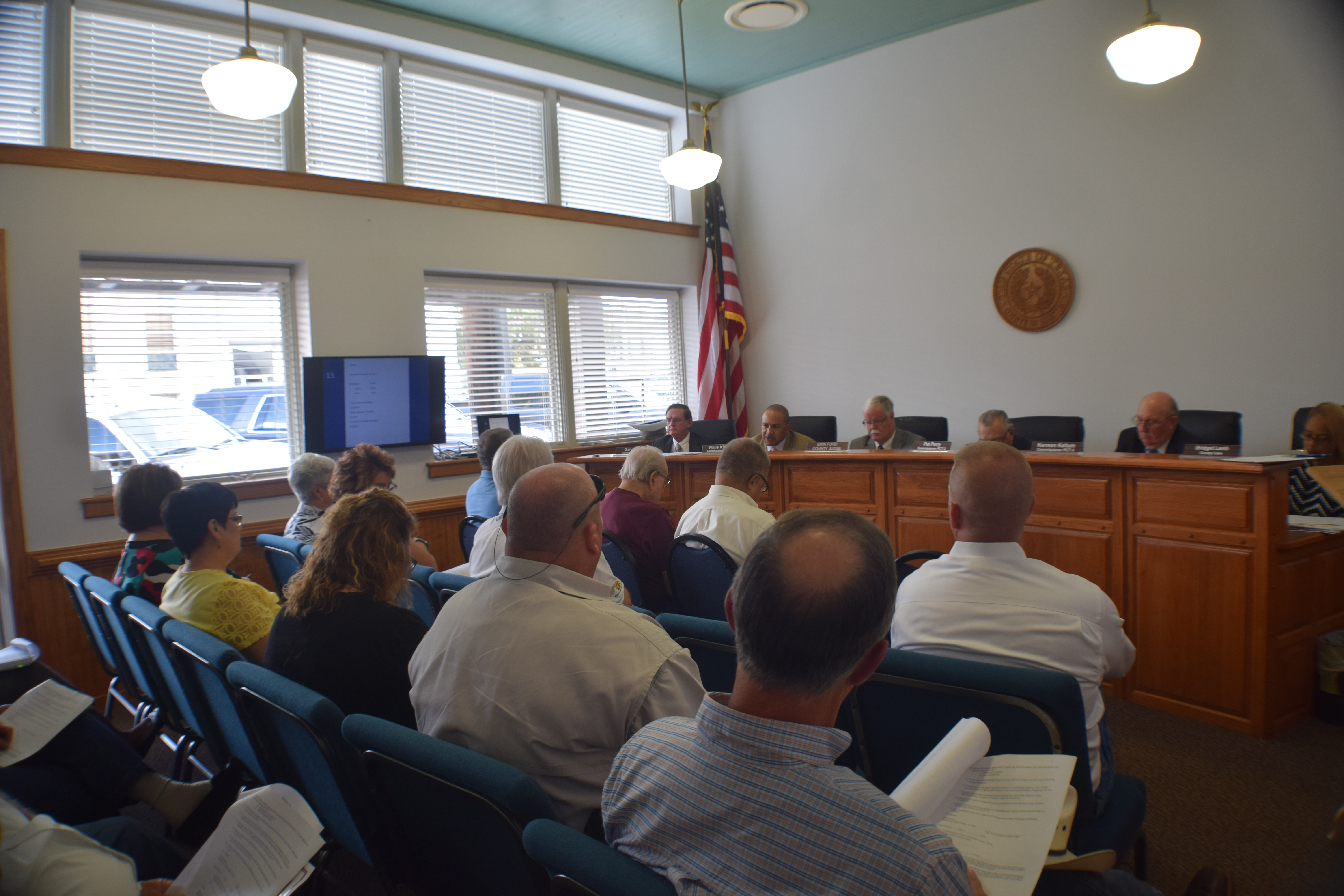 County Approves Proposed Tax Rate
 By Will Johnson                                                                                                                                                                    Messenger Reporter
HOUSTON COUNTY – The Commissioners Court of Houston County has held three separate meetings on three different proposed tax rates. The first meeting was based on a proposed tax rate of 0.54190 per $100 of property valuation, just below the effective tax rate of 0.54193. The second meeting was centered on keeping the tax rate the same as it was in Fiscal Year (FY) 2016, which was 0. 504 and the third meeting split the difference and used a proposed tax rate of 0.524.
During the most recent meeting of the Commissioners Court, held on Tuesday, Aug. 23, the commissioners came to an agreement and approved the proposed rate of 0.524 per $100 of property valuation, which is 0.0179 below the effective rate.
According to Section 26.16 of the Texas Property Tax Code, "The effective tax rate is the rate that would generate the same amount of revenue in the current tax year as was generated by a taxing unit's adopted tax rate in the preceding tax year from property that is taxable in both the current tax year and the preceding tax year."
As the meeting got underway, Houston County resident Julie Lolpries addressed the court about the "… proposed tax rate increase. I'm concerned because they went up on the tax rate last year. The (Houston County) Appraisal District is going up on everyone's land valuations by 10 percent this year. Plus, we are going to lose our discount from the county for paying our taxes early. So we're going to get hit three ways. I understand there's a budget crunch, but I have a budget crunch. I don't have anyone I can go to and say I need a raise. I'm retired and that's all I get. I have to go through and figure out what I'm going to pay for and if these taxes keep going up – are y'all going to come back next year and say you need another two or three cents? My daddy always said he was willing to take less if someone else was willing to take less. I just want y'all to think about that tax rate before y'all pass it because y'all went up last year."
Houston County Judge Erin Ford said Lolpries was right but added, "What we don't have here is business. We don't have the opportunity to gain tax revenue off of incoming businesses. We are so fortunate that we got the (Alamo) Gas Plant. People have complained about it but that gas plant has provided about $300,000 in tax revenue this year if it had not existed. Instead of being in a $600,000 deficit because of the mineral (valuation shortfall), we would have been close to $1 million.
As the meeting continued, an information order setting the annual salary for the official court reporter in the County Court at Law came up for discussion. Precinct Two Commissioner Willie Kitchen said, "I think we need to make note in the minutes, that the court strongly disagrees with the decision, but we have no choice in the matter."
A pay increase of approximately $3,000 had been proposed for court reporter, Betty Chenault, had been proposed by County Court at Law Judge Sarah Clark.
Precinct Three Commissioner Kennon Kellum added, "We can't give any raises. I can't vote to raise taxes and then give someone a raise. I don't agree with this. She (Judge Clark) has the authority to do it and we have to go along with it. It is the same as when we passed the alcohol tax. It was forced on us. This is something I don't agree with."
Commissioner Kitchen asked if the matter could be discussed further with Judge Clark before the matter was put to a vote. The item was tabled for further consideration.
The next item brought before the court concerned policy changes concerning longevity pay for elected county and district officers and appointed officials. The question concerned whether an employee with the county who became an elected official was entitled to longevity pay.
County Attorney Daphne Session said the Texas Attorney General had issued an opinion in a similar case in Webb County where it was ruled unconstitutional. The current policy would affect six county employees and whether longevity pay was owed. This matter was also tabled in order for the county attorney to further look into the matter.
Following the longevity discussion, Crockett Area Chamber of Commerce Executive Director Jeannie Julian requested Hotel Occupancy Tax funds for advertising Christmas in Crockett. She requested $6,000 in funding but when a motion was made, it died for lack of a second.
When the proposed tax rate agenda item came up for consideration, Kitchen addressed the matter. "We had three or four budget workshops. We started with 0.54 and we were able to whittle this down and make those cuts you were talking about. We are going below our effective tax rate. We are doing that because we felt like we needed to make an effort to keep your taxes low and we did. We sat here for hours and wished you could have been here to hear the discussion. There were some broken hearts and hard feelings. We cut back on office supplies, we cut back on part-time employees and we even cut the sheriff's fuel. We all took a hit," he said.
In other matters brought before the court:
The commissioners approved the minutes from their most recently held meetings.
Budget amendments and the payment of bills and expenses incurred by the county were approved.
The County Treasurer's report and compensatory time report were approved.
Recommendations from the Human Resources Committee were adopted.
The salary of a full time jailer, first assistant auditor and assistant auditor were approved by the court.
Crockett Economic Development and Industrial Development Corporation Executive Director Flint Brent gave a presentation about a possible new business locating to Houston County.
A memorandum of understanding between Texas A&M AgriLife Extension Service and Houston County pertaining to information technology services was approved by the court.
A request from the Crockett Area Chamber of Commerce for HOT funds in the amount of $1,500 for use in promoting Davy Crockett Days was approved.
The court accepted a grant contract renewal for the SAVNS/VINE with the Offices of the Attorney General in the amount of $5,273.87.
The election judge in Precinct 10 was replaced.
The Houston County Commissioners Court normally meets the second and fourth Tuesdays of the month at 10:00 a.m. in the County Courthouse Annex. The public is welcome and invited to attend.
Will Johnson may be reached via e-mail at wjohnson@messenger-news.com.