Christmas in Crockett Set for Saturday Nov. 18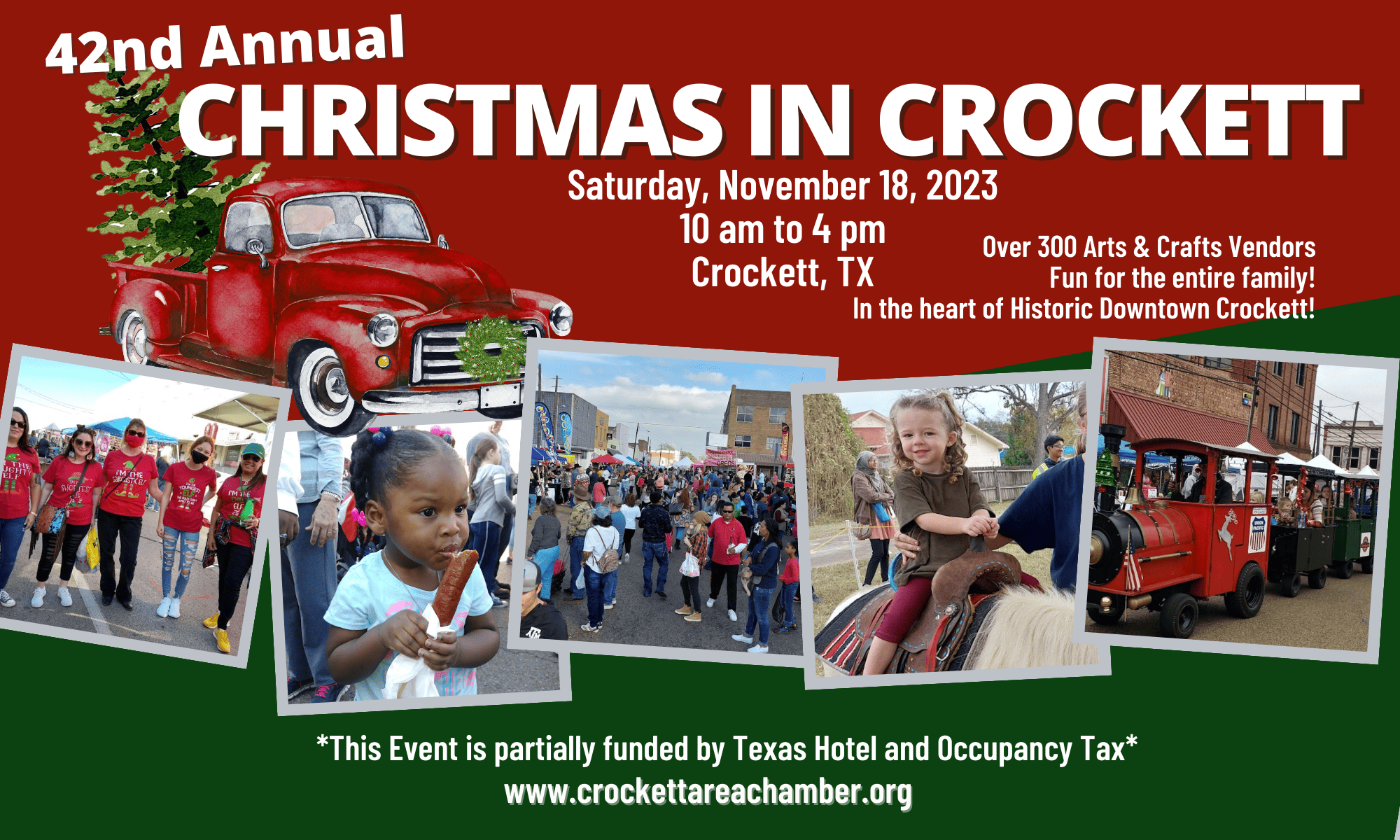 By Greg Ritchie
Messenger Reporter
CROCKETT – Planning for the 42nd annual Christmas in Crockett celebration is moving into its final week, before the hundreds of vendors and thousands of visitors descend on the downtown area for a day of fun, food and shopping. The festival, organized by the Crockett Area Chamber of Commerce has already confirmed almost 300 vendors, with some important changes this year designed to keep the festivities fresh and safe for everyone.
At a recent meeting held between the chamber and City of Crockett officials, the final details were mapped out, including security and safety measures, pre-staging of emergency and first responders as well as expanding the number of streets to be closed to enclose the food court, a change implemented this year.
The chamber decided to vote to move all food vendors into one single area, across from Crockett City Hall, one block from the downtown square. The move has already had its positive and negative effects, from a new layout for downtown vendors, to criticism online the new system will hurt food vendors.
The move will allow vendors to be more spread out throughout the festival area, giving more space and allowing local businesses to stand out and receive customers during the celebration. Although there will be more vendors than ever before, the area should feel a little less crowded, as there will be more space between some vendor booths.
Some traditional food vendors took to social media to criticize the move, worried their sales would suffer, or the donations they generate from those sales will decrease. However, the food court will feature dedicated tables and seating, along with portable restrooms – giving festival goers a chance to sit and enjoy a lunch and it is hoped, spend more time there and more money.
Crockett Fire Chief Jason Frizzell noted another good reason to concentrate the food vendors in a central area.
"For us, on the fire side and logistics-wise, they're all in one spot versus spread out in different areas," Frizzell said. "Now, we can focus on one area for the fire hazards that come along with food vendors. Although we never had anything happen in the past, my job is to plan for the worst, so this year is going to make it a little easier for us, with one central location to focus on."
Moving the food vendors will also take some of the pressure off the downtown square, allowing first responders to move in quickly in case they are needed.
"Two years ago, we had a lady fall and we were trying to make it across the square," Frizzell remembered. "It was hard to get across because the food vendors were there and everybody was in line and nobody really wants to lose their place in line. It was a logistical nightmare to go through that food crowd and hard getting to the other side of the square just to help somebody who fell on the corner."
The two-dozen food court vendors will feature several local favorites, along with some area churches, bar-be-cue, Mexican dishes and all the other festival foods people love.
The traditional booths will see many fan favorites return, along with some new vendors – some of which have rented several spaces in order to display their wide range of products. Many businesses begin as vendors at such celebrations, before growing into traditional, brick-and-mortar stores.
Wednesday, Nov. 15 will see the downtown Crockett lighting ceremony, hosted by the Downtown Crockett Association and the Houston County Ministerial Association. Residents are invited for the lighting of the downtown courthouse, along with music and scripture. A lawn chair is recommended – the program will begin at 6 p.m.
Christmas in Crockett will be held Saturday, Nov. 18, from 10 a.m.-4 p.m. Parking will be available at the Crockett Civic Center with shuttles planned to run to downtown and back.
Greg Ritchie can be reached at [email protected]