Third Generation Added To Insurance Legacy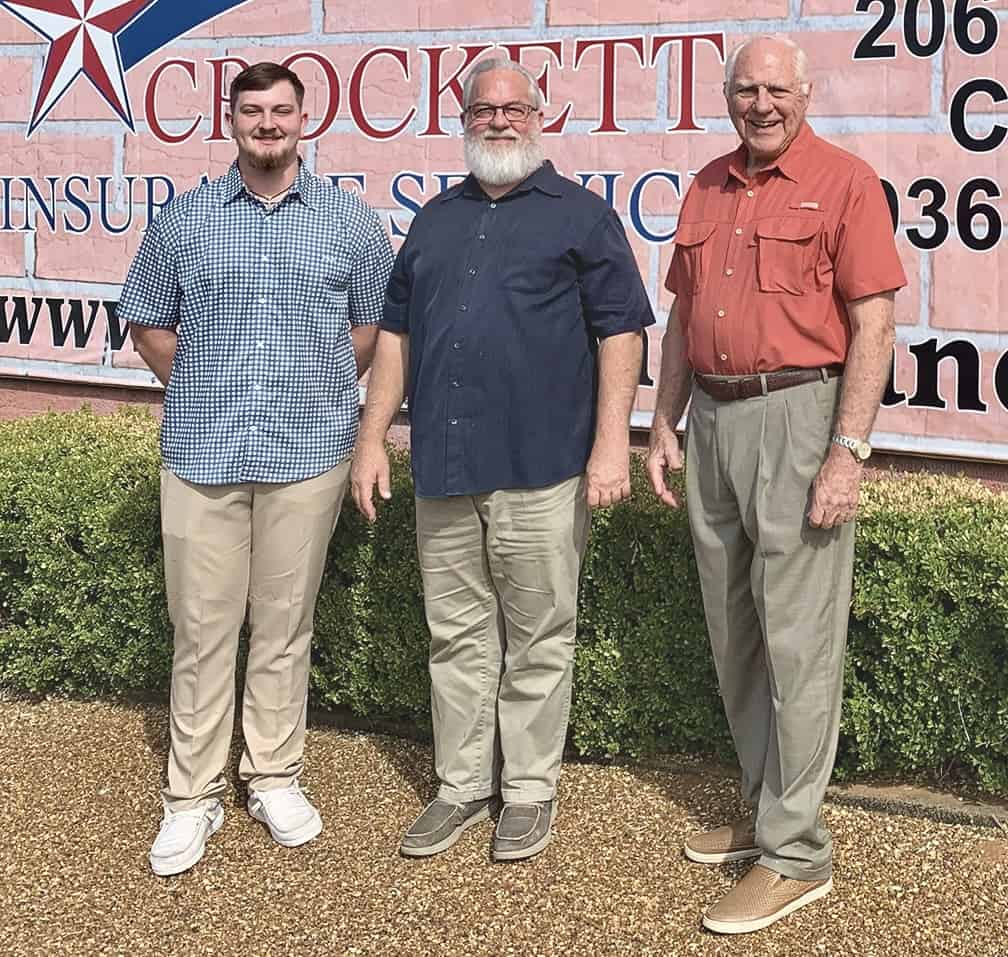 By Greg Ritchie
Messenger Reporter
HOUSTON COUNTY – Sam Jones has joined father Carlton and grandfather Don as the newest generation and member of the family to work at Crockett Insurance. Don opened the company in the early 1970's, before son Carlton came aboard and now young Sam follows in their footsteps as well.
Sam moved to the Crockett area as a young man with his family, growing up here and after graduating high school, tried to find the next step in life, as many young people struggle to do.
"I did go to the University of North Texas and for two semesters, but I didn't know what I wanted to do," Sam explained. "It's hard to go to college if you don't know why you're doing it or what you're doing it for."
Deciding to try different work to find his niche, Sam returned to Crockett and worked at the sawmill for a while, enjoying the work and the atmosphere. The intense heat of this past summer and Sam's recent marriage made him think about moving into a more stable career, and out of the Texas heat.
"I was ready to start learning some new things. And in the back of my mind, I kind of always felt like I'd come here, eventually. I just didn't know when," Sam said. "I was ready to start making a move to build myself and build my family and I felt this was the right time."
As The Messenger has reported, Crockett Insurance began a little after World War II in the downtown square. It wasn't until the early 1970's when it consolidated to become what it is today. It was then that Don Jones brought his family from the Houston area to Crockett to begin their story with the company.
Carlton Jones said it was a big change from the "big city."
"When we first moved up here I was wondering if I needed to buy some boots!" Jones laughed. "I was in elementary school in the third grade. It was different, but we settled right in and enjoyed it."
Jones – now proud owner of many pairs of boots – said the mission of Crockett Insurance is to provide specialized insurance solutions for the people and businesses of Houston County and points beyond.
"We live in a town and county that's predominantly rural. We try to handle anything that comes along, whether it's houses and cars, ranches, farms and businesses of any kind," Jones noted.
Sam finished the process to get licensed to sell insurance before coming on and beginning his training. He loves his father and grandfather, but working with family can be a blessing and a challenge.
"So far, it's been good. I'm just not knowledgeable enough to start butting heads with those guys just yet," Sam laughed. "I'm just trying to absorb everything they tell me."
There is a lot for the young man to learn, as Crockett Insurance recently merged with Dean Insurance and offers a wide range of different products.
"We're very diverse in what we do. Our reach goes way beyond Houston County," Carlton Jones said. We do life and health and we're just a general service agency. And that's what we pride ourselves on – being able to handle everything that comes through the door."
Sam is learning, working his way up and earning his stripes. He said it's a lot to take on, knowing the long history of the company and what it has meant to his family.
"It's very stressful to me. This business has been good to my family. 50 years ago, my grandfather bought the agency and because of that, I got to grow up with all the things that I had," Sam reflected. "It's a lot of pressure, but it's pressure that I'm putting on myself. I think it's good pressure. I think it'll definitely drive me to the do as well as they did, and, hopefully, more so."
Greg Ritchie can be reached at [email protected]