PWFAA Kicks Off Summer Concert Series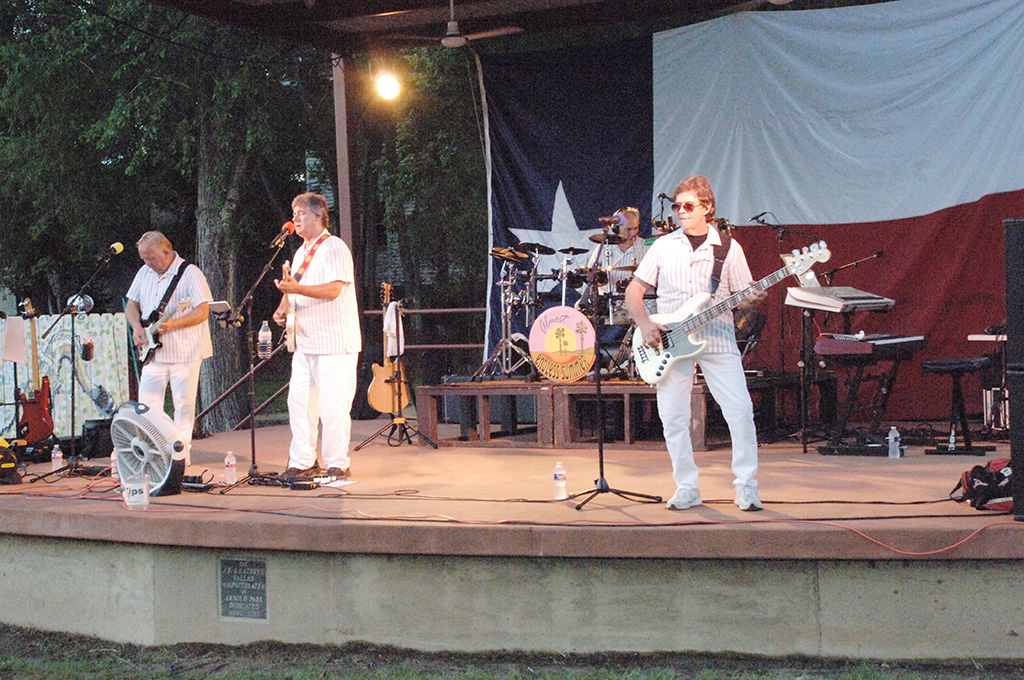 By Cody Thompson
Messenger Reporter
CROCKETT – Houston County residents were treated to the blast-from-the-past musical stylings of Houston-based Beach Boys tribute band, Almost Endless Summer, at the JB & Kathryn Sallas Amphitheater in Crockett on Thursday, June 1.
The amphitheater was abuzz as approximately 250 people from across the county and local area came out to enjoy the music and fellowship.
"This was the best crowd we've ever had at our first summer concert," Piney Woods Fine Arts Association executive director Glenn Barnhart told the Messenger on Friday. "But we're hoping to get even more people to come as the season progresses."
The crowd danced and children played as Almost Endless Summer performed classic Beach Boys' songs, including: "Surfer Girl," "Little Deuce Coupe," "Good Vibrations" and "Kokomo."
"The music was awesome and the people seemed to have a really good time," Barnhart said. "We decided to go with something different this year by bringing in tribute bands and, so far, I think that was a good call."
Barnhart and Crockett mayor, Joni Clonts, greeted the concert patrons before Almost Endless Summer took the stage.
This was the first of four concerts in the PWFAA's Summer Lightnin' Series-Thursday Tunes at the Track. The Summer Lightnin' Series will continue throughout the month of June with performances by Hank Williams tribute artist, Jake Penrod, on Thursday, June 9, Rolling Stones tribute band, Satisfaction, on Thursday, June 15 and Motown tribute band, Brown Sugar Band, on Thursday, June 22.
"This is one of my favorite lineups we've ever done," Barnhart said. "We've never done an entire series of tribute bands and I'm excited that we're doing something so different than the concerts we've put on in the past."
All Summer Lightnin' Series concerts are free to the public and are a way for the PWFAA to give back to the community, according to Barnhart.
"Our main mission here at the PWFAA is to bring the arts to the people of Houston County," Barnhart said. "We wanted the Summer Lightnin' Series to be free so everyone could come out and have fun, not just the people that could afford it."
Patrons may sit in the amphitheater bleachers or bring their own chairs or blankets to sit on.
"This first concert was great, but they're only going to get better from here," Barnhart said. "If you want to have a good time and listen to some awesome music, come on out because we would be more than happy to have you."
To learn more about the PWFAA or the Summer Lightnin' Series, visit www.pwfaa.org.
Cody Thompson may be reached via e-mail at [email protected].